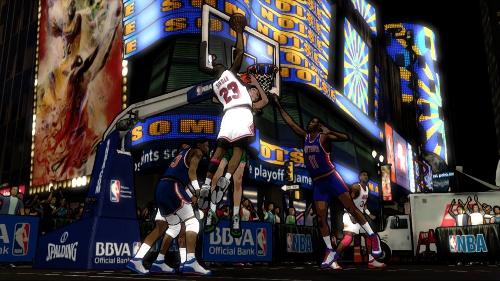 Even with the lockout costing a season of support for the product 2K Sports will be rolling out downlaodable content for NBA 2K12 soon. The DLC pack is currently expected to arrive late this month or in December and will sell for $10. It features cel-shaded "blacktop" modes and HORSE in a Times Square setting along with the introduction of a number of new legends who will only be available for use within them. Gamespot recently unveiled the first gameplay videos which show off 1-on-1, 2-on-2, 21, full court, and HORSE gameplay.
The reaction to the footage has been largely negative with most complaints being over the cel-shaded visuals. While it definitely doesn't look great one has to understand why the decision was made to do that. 2K has to justify the content since they are selling it and to do so they had to differentiate it from the base product. The visuals are the most obvious way they have done so – especially since some of the modes were simply stripped out of the series and reintroduced but with the increased utilization of legends the main selling point. They want the perception to be that it is practically a new game rather than simply an add-on.
Continue on to check out the five videos and leave your thoughts on the upcoming 'Legends Showcase' DLC for NBA 2K12 in the comments!