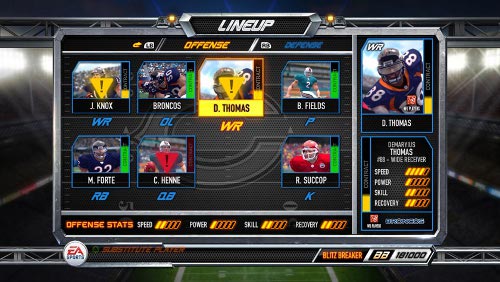 Recently EA Sports broke down the 'Blitz Battles' and co-op 'Blitz Teams' online modes for NFL Blitz. Now comes details on 'Elite League' which appears to have been inspired by the 'Ultimate Team' mode found in sim titles such as Madden and FIFA. Thankfully in this case the card packs aren't being sold for real money but instead they are purchased using the 'Blitz Bucks' that are earned by playing online games. That should provide more value to Blitz and better competitive balance in the mode's online match-ups.
Teams are built and then customized around the players obtained through card packs (which also contain power-ups) and players have a limited shelf life as they eventually require their contracts to be extended. Card collections can be filled with rewards for doing so – completing an entire team can be traded in for the opportunity to buy a 'Pro Player' which has a couple maxed out ratings and an infinite contract while filling an entire division brings about one of 12 'Ultimate Players' that have all ratings maxed and an infinite contract.
The 'Elite League' teams can be used online against others with the option of adding the element of gambling by risking players. The winner gets to steal one while the loser has to watch it happen following completion of the game. Hopefully it works even if opponents have disconnected by that point considering how many people can't take a simple loss let alone having to sit there and see something they've earned ripped away right after.