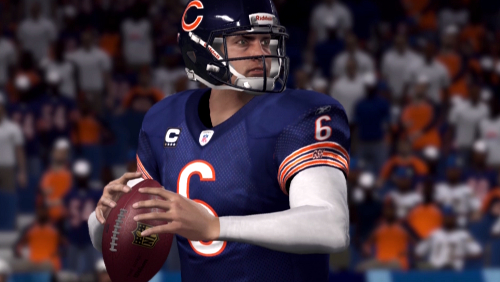 It's still unclear whether there will be a roster update for Madden NFL 12 coming on Friday – in the past there has been a break away from providing them on Thanksgiving week. There are a number of developments from week 11 of the NFL season that will factor into the next roster update whether it comes this week or next. All the bye weeks are complete with every team having played 10 games and now the push towards the playoffs begins.
The biggest story is the Bears losing Jay Cutler who had been playing probably the best football of his career with the team really on a roll. He will be out potentially the rest of the regular season. Matt Cassel heads to the IR after getting injured the previous week.
Players such as Von Miller, Chris Clemons, Red Bryant, Matt Moore, Andre Caldwell, Jared Veldheer, and Kevin Smith can expect ratings upgrades. Jake Locker also got a chance to show what he has, with the other first round QBs already starting across the league, and played well so he may see a slight move up. Matt Stafford was on his way down having thrown six INTs in five quarters but then rolled off five straight TDs so he should be stable. Matt Moore and the Dolphins are on the rise while Mark Sanchez and Chris Johnson are sure to stumble further.
In terms of 'player traits' it'll be worth looking to see if Tim Tebow has gained the clutch designation and whether Philip Rivers has lost it. Rivers has now come up short in five straight late-game situations. Against the Bears the Chargers didn't gain a single yard in the fourth quarter and Rivers threw two INTs.
As always leave your thoughts in the comments on what players and/or teams are deserving of ratings adjustments in the next Madden NFL 12 roster update!