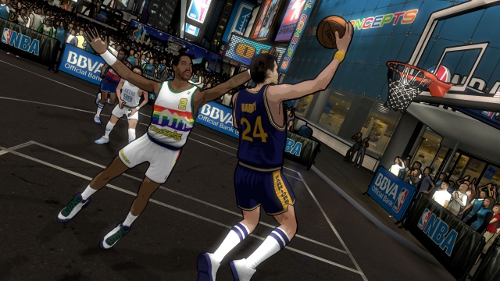 2K Sports has announced the 'Legends Showcase' downloadable content will release on Tuesday November 29th for both the Xbox 360 and PS3. The DLC will go for $10 and features a cel-shaded art style with various "blacktop" modes and HORSE. It also will unlock the ability to edit historic team rosters offline as well as provide the opportunity to use the historic teams in online match-ups against others who have purchased the DLC.
As documented over the build-up from its early discovery to the announcement and now its release the DLC is being delivered under just about the worst possible circumstances. Beyond even the league lockout severely damaging interest in the product is that the content of the DLC has been received poorly, which began with the pricing and first screenshots that displayed the art style, and recently amplified with the gameplay videos that prompted stunningly widespread negative response. Still, its a significant offering considering the work that went into it, and one that could be justified in value for some consumers.
The full roster includes those new legends added specifically for the 'Legends Showcase' along with the other legends or current day stars (that may appear in their prime rather than based on last season) that will be available to use in the new modes. 
George Mikan 1951 Lakers
Bob Cousy 1957 Celtics
Bob Pettit 1959 Hawks
Nate Thurmond 1967 Warriors
Lenny Wilkens 1968 Hawks
Dave Bing 1968 Pistons
Wes Unseld 1969 Bullets
Connie Hawkins 1970 Suns
Dave Cowens 1973 Celtics
Tiny Archibald 1973 Kings
Spencer Haywood 1973 Sonics
Bob McAdoo 1975 Braves
Elvin Hayes 1975 Bullets
Rick Barry 1975 Warriors
Bob Lanier 1977 Pistons
Artis Gilmore 1978 Bulls
David Thompson 1978 Nuggets
Jamaal Wilkes 1981 Lakers
World B. Free 1981 Warriors
Jack Sikma 1982 Sonics
Alex English 1983 Nuggets
Adrian Dantley 1984 Jazz
Bernard King 1984 Knicks
Rolando Blackman 1984 Mavericks
Kiki Vandeweghe 1984 Nuggets
Mark Eaton 1985 Jazz
Sleepy Floyd 1987 Warriors
Fat Lever 1988 Nuggets
Mark Jackson 1989 Knicks
Kenny Walker 1989 Knicks
Dale Ellis 1989 Sonics
Derek Harper 1990 Mavericks
Tom Chambers 1990 Suns
Kevin Johnson 1990 Suns
Reggie Lewis 1993 Celtics
Dan Majerle 1993 Suns
Kenny Anderson 1994 Nets
Cedric Ceballos 1994 Suns
Dee Brown 1995 Celtics
Gheorge Muresan 1996 Bullets
Glen Rice 1997 Hornets
Shawn Bradley 1997 Mavericks
Steve Smith 1998 Hawks
Jalen Rose 2001 Pacers
Jamal Mashburn 2003 Hornets
Yao Ming 2009 Rockets
Tom Heinsohn 1961 Celtics
Elgin Baylor 1961 Lakers
Oscar Robertson 1962 Royals
Wilt Chamberlain 1962 Warriors
Walt Bellamy 1964 Bullets
Sam Jones 1965 Celtics
Bill Russell 1965 Celtics
Tom Sanders 1965 Celtics
Jerry Lucas 1966 Royals
Dick Barnett 1968 Knicks
Willis Reed 1970 Knicks
Kareem Abdul-Jabbar 1971 Bucks
John Havlicek 1971 Celtics
Lou Hudson 1971 Hawks
Wilt Chamberlain 1971 Lakers
Jerry West 1971 Lakers
Dave DeBusschere 1972 Knicks
Walt Frazier 1972 Knicks
Gail Goodrich 1972 Lakers
Earl Monroe 1975 Knicks
Bob Dandridge 1976 Bucks
Julius Erving 1977 76ers
George McGinnis 1977 76ers
Pete Maravich 1977 Jazz
Bill Walton 1978 Trailblazers
George Gervin 1979 Spurs
Darryl Dawkins 1980 76ers
Kareem Abdul-Jabbar 1980 Lakers
Bobby Jones 1982 76ers
Robert Parish 1982 Celtics
Maurice Cheeks 1983 76ers
Moses Malone 1983 76ers
Tree Rollins 1983 Hawks
Buck Williams 1983 Nets
Mark Aguirre 1984 Mavericks
Terry Cummings 1985 Bucks
Sidney Moncrief 1985 Bucks
Paul Pressey 1985 Bucks
Bill Laimbeer 1985 Pistons
Isiah Thomas 1985 Pistons
Orlando Woolridge 1986 Bulls
Larry Bird 1986 Celtics
Dennis Johnson 1986 Celtics
Kevin McHale 1986 Celtics
Doc Rivers 1986 Hawks
Dominique Wilkins 1986 Hawks
Michael Cooper 1987 Lakers
Magic Johnson 1987 Lakers
Byron Scott 1987 Lakers
Rodney McCray 1987 Rockets
Danny Ainge 1988 Celtics
Bill Cartwright 1989 Bulls
Craig Hodges 1989 Bulls
Larry Nance 1989 Cavaliers
Clyde Drexler 1989 Trailblazers
Jerome Kersey 1989 Trailblazers
Patrick Ewing 1990 Knicks
A.C. Green 1990 Lakers
Chuck Person 1990 Pacers
Hersey Hawkins 1991 76ers
Spud Webb 1991 Hawks
Sam Perkins 1991 Lakers
James Worthy 1991 Lakers
Vernon Maxwell 1991 Rockets
Kenny Smith 1991 Rockets
Otis Thorpe 1991 Rockets
Terry Porter 1991 Trailblazers
Tim Hardaway 1991 Warriors
Chris Mullin 1991 Warriors
Mitch Richmond 1991 Warriors
Brad Daugherty 1992 Cavaliers
Mark Price 1992 Cavaliers
Kevin Willis 1992 Hawks
Kendall Gill 1992 Hornets
Reggie Williams 1992 Nuggets
Ricky Pierce 1992 Sonics
Horace Grant 1993 Bulls
Michael Jordan 1993 Bulls
Muggsy Bogues 1993 Hornets
Dell Curry 1993 Hornets
Larry Johnson 1993 Hornets
Alonzo Mourning 1993 Hornets
Nick Anderson 1993 Magic
Drazen Petrovic 1993 Nets
Detlef Schrempf 1993 Pacers
Joe Dumars 1993 Pistons
B.J. Armstrong 1994 Bulls
Ron Harper 1994 Clippers
John Stockton 1994 Jazz
Charles Oakley 1994 Knicks
John Starks 1994 Knicks
Dikembe Mutombo 1994 Nuggets
Robert Horry 1994 Rockets
Hakeem Olajuwon 1994 Rockets
David Robinson 1994 Spurs
Cliff Robinson 1994 Trailblazers
Vlade Divac 1995 Lakers
Shaquille O'Neal 1995 Lakers
Penny Hardaway 1995 Magic
Robert Pack 1995 Nuggets
Steve Kerr 1996 Bulls
Toni Kukoc 1996 Bulls
Scottie Pippen 1996 Bulls
Dennis Rodman 1996 Bulls
Anthony Mason 1996 Knicks
Dennis Scott 1996 Magic
Mahmoud Abdul-Rauf 1996 Nuggets
Clyde Drexler 1996 Rockets
Shawn Kemp 1996 Sonics
Gary Payton 1996 Sonics
Sean Elliott 1996 Spurs
Avery Johnson 1996 Spurs
Karl Malone 1997 Jazz
Jeff Hornacek 1998 Jazz
Eddie Jones 1998 Lakers
Shaquille O'Neal 2000 Lakers
Doug Christie 2001 Kings
Chris Webber 2001 Kings
Sam Cassell 2002 Bucks
Grant Hill 1997 Pistons
Vince Carter 2001 Raptors
Andre Miller 2002 Cavaliers
Jason Kidd 2002 Nets
Kobe Bryant 2003 Lakers
Derek Fisher 2003 Lakers
Tracy McGrady 2003 Magic
Ben Wallace 2003 Pistons
Tim Duncan 2003 Spurs
Baron Davis 2004 Hornets
Andrei Kirilenko 2004 Jazz
Peja Stojakovic 2004 Kings
Ron Artest 2004 Pacers
Kevin Garnett 2004 Timberwolves
Mike Bibby 2005 Kings
Ray Allen 2005 Sonics
Rashard Lewis 2005 Sonics
Michael Redd 2006 Bucks
Richard Hamilton 2006 Pistons
Shawn Marion 2006 Suns
Steve Nash 2006 Suns
Jason Richardson 2006 Warriors
Gilbert Arenas 2006 Wizards
Mike Miller 2007 Grizzlies
Hedo Turkoglu 2008 Magic
Marcus Camby 2008 Nuggets
Brandon Roy 2009 Trailblazers
Elton Brand 2011 76ers
Jrue Holiday 2011 76ers
Andre Iguodala 2011 76ers
Jodie Meeks 2011 76ers
Evan Turner 2011 76ers
Lou Williams 2011 76ers
Thaddeus Young 2011 76ers
D.J. Augustin 2011 Bobcats
Gerald Henderson 2011 Bobcats
Andrew Bogut 2011 Bucks
Carlos Delfino 2011 Bucks
Stephen Jackson 2011 Bucks
Brandon Jennings 2011 Bucks
Carlos Boozer 2011 Bulls
Luol Deng 2011 Bulls
Kyle Korver 2011 Bulls
Joakim Noah 2011 Bulls
Derrick Rose 2011 Bulls
Antawn Jamison 2011 Cavaliers
Anderson Varejao 2011 Cavaliers
Glen Davis 2011 Celtics
Jeff Green 2011 Celtics
Paul Pierce 2011 Celtics
Rajon Rondo 2011 Celtics
Randy Foye 2011 Clippers
Eric Gordon 2011 Clippers
Blake Griffin 2011 Clippers
DeAndre Jordan 2011 Clippers
Chris Kaman 2011 Clippers
Mo Williams 2011 Clippers
Tony Allen 2011 Grizzlies
Mike Conley 2011 Grizzlies
Marc Gasol 2011 Grizzlies
Rudy Gay 2011 Grizzlies
O.J. Mayo 2011 Grizzlies
Zach Randolph 2011 Grizzlies
Jamal Crawford 2011 Hawks
Kirk Hinrich 2011 Hawks
Al Horford 2011 Hawks
Joe Johnson 2011 Hawks
Josh Smith 2011 Hawks
Chris Bosh 2011 Heat
LeBron James 2011 Heat
Dwyane Wade 2011 Heat
Trevor Ariza 2011 Hornets
Carl Landry 2011 Hornets
Emeka Okafor 2011 Hornets
Chris Paul 2011 Hornets
David West 2011 Hornets
Derrick Favors 2011 Jazz
Devin Harris 2011 Jazz
Gordon Hayward 2011 Jazz
Al Jefferson 2011 Jazz
C.J. Miles 2011 Jazz
Paul Millsap 2011 Jazz
DeMarcus Cousins 2011 Kings
Tyreke Evans 2011 Kings
J.J. Hickson 2011 Kings
John Salmons 2011 Kings
Marcus Thornton 2011 Kings
Carmelo Anthony 2011 Knicks
Chauncey Billups 2011 Knicks
Toney Douglas 2011 Knicks
Landry Fields 2011 Knicks
Amar'e Stoudemire 2011 Knicks
Shannon Brown 2011 Lakers
Andrew Bynum 2011 Lakers
Pau Gasol 2011 Lakers
Lamar Odom 2011 Lakers
Brandon Bass 2011 Magic
Dwight Howard 2011 Magic
Jameer Nelson 2011 Magic
J.J. Redick 2011 Magic
Caron Butler 2011 Mavericks
Dirk Nowitzki 2011 Mavericks
Jason Terry 2011 Mavericks
Kris Humphries 2011 Nets
Brook Lopez 2011 Nets
Deron Williams 2011 Nets
Arron Afflalo 2011 Nuggets
Chris Andersen 2011 Nuggets
Wilson Chandler 2011 Nuggets
Danilo Gallinari 2011 Nuggets
Ty Lawson 2011 Nuggets
Nene Nene 2011 Nuggets
J.R. Smith 2011 Nuggets
Darren Collison 2011 Pacers
Paul George 2011 Pacers
Danny Granger 2011 Pacers
Tyler Hansbrough 2011 Pacers
Roy Hibbert 2011 Pacers
Ben Gordon 2011 Pistons
Greg Monroe 2011 Pistons
Tayshaun Prince 2011 Pistons
Rodney Stuckey 2011 Pistons
Leandro Barbosa 2011 Raptors
Andrea Bargnani 2011 Raptors
Jose Calderon 2011 Raptors
Ed Davis 2011 Raptors
DeMar DeRozan 2011 Raptors
Jonny Flynn 2011 Rockets
Kyle Lowry 2011 Rockets
Kevin Martin 2011 Rockets
Patrick Patterson 2011 Rockets
Luis Scola 2011 Rockets
Manu Ginobili 2011 Spurs
Richard Jefferson 2011 Spurs
Tony Parker 2011 Spurs
Channing Frye 2011 Suns
Marcin Gortat 2011 Suns
Hakim Warrick 2011 Suns
Kevin Durant 2011 Thunder
James Harden 2011 Thunder
Serge Ibaka 2011 Thunder
Kendrick Perkins 2011 Thunder
Nate Robinson 2011 Thunder
Russell Westbrook 2011 Thunder
Michael Beasley 2011 Timberwolves
Wes Johnson 2011 Timberwolves
Kevin Love 2011 Timberwolves
Anthony Randolph 2011 Timberwolves
Ricky Rubio 2011 Timberwolves
Sebastian Telfair 2011 Timberwolves
LaMarcus Aldridge 2011 Trailblazers
Nicolas Batum 2011 Trailblazers
Raymond Felton 2011 Trailblazers
Wesley Matthews 2011 Trailblazers
Greg Oden 2011 Trailblazers
Gerald Wallace 2011 Trailblazers
Steph Curry 2011 Warriors
Monta Ellis 2011 Warriors
David Lee 2011 Warriors
Dorell Wright 2011 Warriors
Andray Blatche 2011 Wizards
Jordan Crawford 2011 Wizards
Javale McGee 2011 Wizards
John Wall 2011 Wizards
Nick Young 2011 Wizards