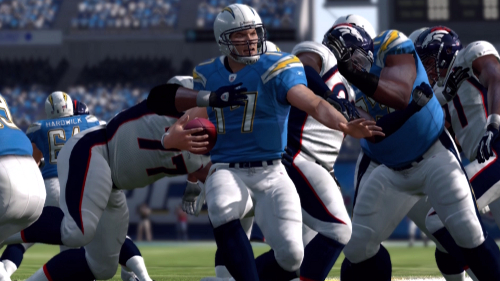 There is no question Philip Rivers is having a bad season – he leads the league in INTs with 17 and total turnovers with 23. Fourth quarter failures on top of that have now cost him is 'clutch' trait in Madden NFL 12. 
The 'clutch' trait is intended to provide a general ratings boost to players when in high pressure situations. Going into the most recent roster update, which stripped Rivers of the designation, only two changes to the initial group had been made. Eli Manning lost it early in the season and re-gained it after week eight while Calvin Johnson earned it following week four. The removal of Rivers now brings the group of clutch players back down to the original number of 36 but that may expand again very soon.
Rivers fourth quarter performances have been dreadful. In the current six game losing streak for the Chargers he has come up short in every one prompting the necessity to remove his 'clutch' designation after the fifth. In that one San Diego was unable to even produce a single yard of offense in the fourth quarter with two killer picks. This weekend he avoided the INTs but couldn't produce any points in the second half outside of a third quarter field goal. When within seven points in the fourth quarter Rivers is completing only 54% of his passes and has thrown four INTs this year with a 55 QB rating – and that doesn't even demonstrate the ineptitude of the hurry-up offenses he's run that have been necessitated late in many of the games.
Meanwhile, as written on last week, Tim Tebow is almost assured of receiving the 'clutch' trait. He is 5-1 as a starter despite producing practically nothing before the fourth quarter of each game, and helped take down Rivers and the Chargers with another comeback and late OT victory.