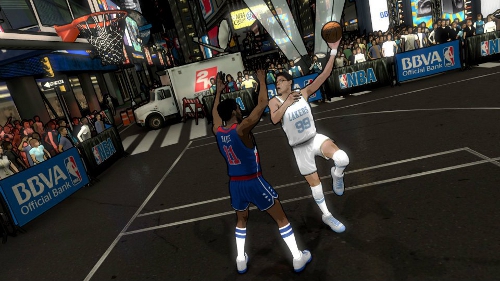 The timing couldn't have worked out much better for 2K Sports – with the lockout coming to an end there is now growing excitement for the upcoming NBA season. Ultimately that will mean more consumers with NBA 2K12 and more opportunity to sell them the 'Legends Showcase' downloadable content that arrived today for both the Xbox 360 and PS3.
The DLC is being sold for $10 and features a cel-shaded art style with various "blacktop" modes and HORSE in a Times Square setting. The roster of legends available to use within the new modes can be viewed here. The DLC also unlocks the ability to edit historic team rosters offline and provides the opportunity to use the base historic teams in online match-ups against others who have purchased it.
The lockout being lifted may not generate more interest in this DLC since it is based primarily on using legends in the new environment. It does however soften some of the blowback from consumers who have been critical of the company introducing pricey add-on content when the value of the original product had been degraded due to the lockout. It will still be a tough sell but any anger towards it (and there has been plenty) may now trend more towards indifference which the company would certainly welcome at this point.