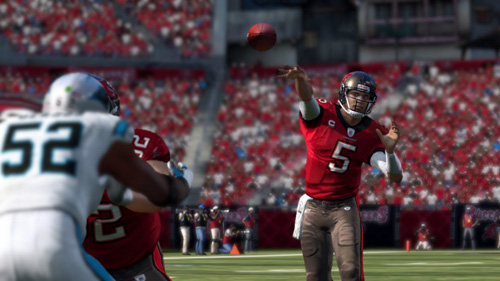 The most recent roster update for Madden NFL 12 was the most significant to date in terms of changes being made to player 'traits'. Over the course of the season only six moves had been made to the new system meant to help differentiate players beyond just their ratings. The post-week 12 update added three more – two of which are particularly topical given recent events.
Having set up as a likelihood over the last few weeks – discussion on the possibility had been ongoing – Tim Tebow earned the 'clutch' designation. Even his detractors would admit he steps up in high pressure moments and that is exactly what the trait is meant to represent. Tebow's 77 overall rating right now may actually be a bit high considering his performance in the first three quarters of games. What 'clutch' though is intended to do is boost a player's ratings in late-game or high pressure situations and that is where he has delivered.
In the week 12 game against the Patriots it was DeSean Jackson dropping multiple passes, and that being spotlighted heavily due to the discontent over his current contract situation, that led to him getting one of the few traits that would be considered a negative. Jackson received the "drops open passes" trait and seems to be spiraling down along with the Eagles. Neither bothered to show up for the week 13 Thursday night game.
Although it may have been a surprise as no one has really been talking about the Bucs disappointing season and the apparent regression of Josh Freeman but he has lost the 'clutch' trait that he entered the season with. In games that are within a TD in the fourth quarter Freeman's QB rating drops down to 53.3 with no TDs and two INTs. He was in shaky standing already but the week 12 game against the Titans did him in – down only three points he threw a pick with just over two minutes remaining and then fumbled on fourth down on the final drive with under a minute left when in striking distance of a victory.