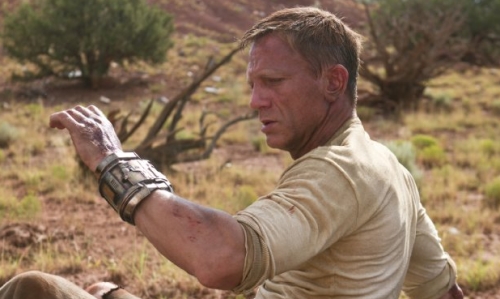 A number of high profile releases arrive on DVD and Blu-ray this week. Cowboys & Aliens and Mr. Popper's Penguins somewhat disappointed at the box office, The Help and The Hangover Part II were smash hits, and The Debt fell somewhere in the middle.
•Cowboys & Aliens (Buy at Amazon: DVD or Blu-ray/DVD Combo)
1875. New Mexico Territory. A stranger (Daniel Craig) with no memory of his past stumbles into the hard desert town of Absolution. What he discovers is that the people of Absolution don't welcome strangers, and nobody makes a move on its streets unless ordered to do so by the iron-fisted Colonel Dolarhyde (Harrison Ford). It's a town that lives in fear. But Absolution is about to experience fear it can scarcely comprehend as the desolate city is attacked by marauders from the sky. Now, the stranger they rejected is their only hope for salvation. As this gunslinger slowly starts to remember who he is and where he's been, he realizes he holds a secret that could give the town a fighting chance against the alien force.

•The Help (Buy at Amazon: DVD or DVD/Blu-ray combo)
Stars Emma Stone as Skeeter, Viola Davis as Aibileen and Octavia Spencer as Minny-three very different, extraordinary women in Mississippi during the 1960s, who build an unlikely friendship around a secret writing project that breaks societal rules and puts them all at risk. From their improbable alliance a remarkable sisterhood emerges, instilling all of them with the courage to transcend the lines that define them, and the realization that sometimes those lines are made to be crossed-even if it means bringing everyone in town face-to-face with the changing times.
•The Hangover Part II (Buy at Amazon: DVD or Blu-ray/DVD combo)
Phil (Bradley Cooper), Stu (Ed Helms), Alan (Zach Galifianakis) and Doug (Justin Bartha) travel to exotic Thailand for Stu's wedding. What could go wrong? Director Todd Phillips' explosively funny follow-up to his award-winning smash hit demonstrates that though what happens in Vegas may stay in Vegas, what happens in Bangkok can hardly be imagined!
•Mr. Popper's Penguins (Buy at Amazon: DVD or Blu-ray)
Chill out with the funniest family comedy of the year! Jim Carrey stars as Tom Popper, a successful businessman who's clueless when it comes to the really important things in life…until he inherits six "adorable" penguins, each with its own unique personality. Soon Tom's rambunctious roommates turn his swank New York apartment into a snowy winter wonderland — and the rest of his world upside-down. Adapted from the award-winning classic children's book, Mr. Popper's Penguins is a cool blast of fun for all ages!
•The Debt (Buy at Amazon: DVD or Blu-ray)
In 1966, three Mossad agents were assigned to track down a feared Nazi war criminal hiding in East Berlin, a mission accomplished at great risk and personal cost – or was it? Thirty years later, the suspense builds as shocking news and surprising revelations compel retired team member Rachel Singer to take matters into her own hands.
•Dragon Tattoo Trilogy: Extended Editions (Buy at Amazon: DVD or Blu-ray)
Available in Swedish with English subtitles and with English dub track. Includes the original three films of the adapted Stieg Larsson novel trilogy – The Girl With The Dragon Tattoo, The Girl Who Played With Fire, and The Girl Who Kicked The Hornet's Nest.
•Mission: Impossible Giftset Collection (Buy at Amazon: DVD or Blu-ray)
With the fourth entry in the franchise due out later this month this collection on either DVD or Blu-ray includes Mission: Impossible, Mission: Impossible II, and Mission: Impossible III.
•Big Love: Season Five (Buy DVD at Amazon)
On election night, new state senator Bill Henrickson shook Utah to its core by announcing he was a polygamist. Now, instead of being embraced for their honesty, the Henrickson family is engulfed by hostility from neighbors, Home Plus employees, casino partners, students at their kids' schools and even fellow polygamists hoping to keep their personal lives private. Meanwhile, at Juniper Creek, Alby Grant returns from a self-imposed desert exile with revenge on his mind. Can the Henricksons survive this flood of ill-will?
•24/7 Penguins v Capitals: Road to NHL Winter Classic (Buy DVD at Amazon)
On New Year's Day 2011, two of the National Hockey League's premier teams – the Pittsburgh Penguins and the Washington Capitals – faced off in the open air of Heinz Field in Pittsburgh for the 4th annual NHL Winter Classic, a once-a-year extravaganza that brings stadium-sized audiences, and millionsof TV viewers, into the fast-and-furious realm of pro hockey. Get the inside scoop on all the pre-game preparations – as well as behind-the-scenes footage from both the Winter Classic and a December 23 regular-season preview between the two teams – on a brand-new, four-part 24/7 exclusive.
•Vietnam in HD (Buy Blu-ray at Amazon)
Their story is in danger of being lost to history. The men who came home from the Vietnam War represent a second silent generation. These are the men who won every battle in a lost war. Using the same experiential approach to storytelling as WWII in HD, HISTORY gives these veterans a voice. Through a collection of color Vietnam footage never seen by the public from private collections, museums, the US government, veteran's and news organizations as well as sources from Vietnam, they tell their stories and relive their struggles, courage and fears. This six-hour miniseries spans the massive initial troop build-up in 1965 to the fall of Saigon a decade later. Sound design, using popular music from that era, powerfully evokes the time period and experience. This 2-disc set presents all 6 episodes in stunning Blu-ray high-definition.