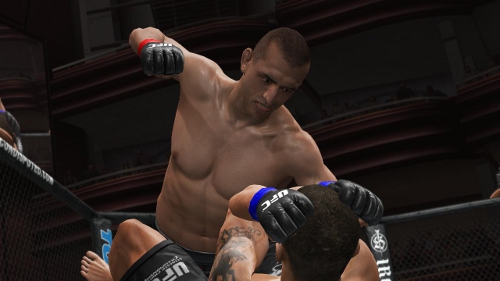 The closed-online beta for UFC Undisputed 3, that was supposed to open yesterday before being delayed to today, has now been moved to Monday December 19th. The beta will initially open for the Xbox 360 – no word on whether the PS3 side will be further delayed or if that will remain on schedule as it was supposed to come sometime later in the month.
UPDATE #2 Per THQ – We have decided to move the start date of our Alpha Server Test again to this Monday, Dec 19th for XBOX 360 in favor of addressing further technical issues we'd like to resolve before opening the online test to you. It is critically important to us that we begin this Alpha Server Online test on as best footing as possible for such a test. UFC Undisputed 3 online competition and fight camps are the most important community aspects of our game that we've focused hard on improving for you, and we look forward to providing you a sneak peak in helping us further test and address any significant online issues. We sincerely apologize for moving the date a second time. Thank you for your patience and understanding as we march towards polishing UFC Undisputed 3 to the finest quality.
Again this beta period is intended primarily to assess online server stability – something necessary as the company has transitioned to their own servers only to find enormous problems with WWE 12 heightening concern over how well UFC 3 will hold up. The delay here isn't a huge deal given that the existence of the beta wasn't even known until recently but it does continue to limit the amount of time the company will have to implement fixes and optimize performance.