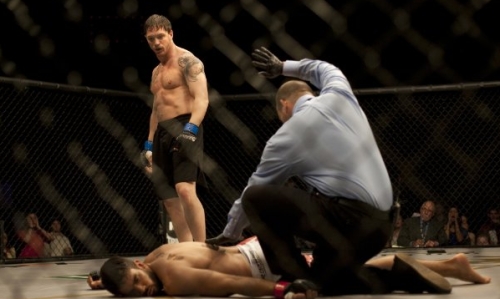 There are a healthy number of quality options releasing on DVD and Blu-ray this week. Though none were huge hits many were quite successful relative to their budgets or at least garnered good critical and audience response.
•Glee: The Concert Movie (Buy at Amazon: DVD or Blu-ray)
Here's your front-row seat to a thrilling concert performed by the phenomenally talented cast of Glee. See your favorite stars from the hit TV show as they sing the songs you love and dance up a storm on stage. Get swept up in the energy of "Glee Live" — including performances not seen in theaters and hilarious Sue Sylvester introductions!

•Dolphin Tale (Buy at Amazon: DVD or DVD/Blu-ray combo)
Dolphin Tale is inspired by the amazing true story of a brave dolphin and the compassionate strangers who banded together to save her life. Swimming free, a young dolphin is caught in a crab trap, severely damaging her tail. She is rescued and transported to the Clearwater Marine Hospital, where she is named Winter. But her fight for survival has just begun. Without a tail, Winter's prognosis is dire. It will take the expertise of a dedicated marine biologist, the ingenuity of a brilliant prosthetics doctor, and the unwavering devotion of a young boy to bring about a groundbreaking miracle-a miracle that might not only save Winter but could also help scores of people around the world.
•Warrior (Buy at Amazon: DVD or Blu-ray)
Haunted by a tragic past, ex-Marine Tommy Conlon (Hardy) returns home for the first time in fourteen years to enlist the help of his father (Nick Nolte) to train for SPARTA, the biggest winner-takes-all event in mixed martial arts history. A former wrestling prodigy, Tommy blazes a path toward the championship while his brother, Brendan (Edgerton), an ex-fighter-turned teacher, returns to the ring in a desperate bid to save his family from financial ruin. But when Brendan's unlikely, underdog rise sets him on a collision course with the unstoppable Tommy, the two brothers must finally confront each other and the forces that pulled them apart, facing off in the most soaring, soul stirring, and unforgettable climax that must be seen to be believed.
•Margin Call (Buy at Amazon: DVD or Blu-ray)
Set in the high-stakes world of the financial industry, Margin Call is an entangling thriller involving the key players at an investment firm during one perilous 24-hour period in the early stages of the 2008 financial crisis. When an entry-level analyst unlocks information that could prove to be the downfall of the firm, a roller-coaster ride ensues as decisions both financial and moral catapult the lives of all involved to the brink of disaster. Writer/director J.C. Chandor's enthralling first feature is a stark and bravely authentic portrayal of the financial industry and its denizens as they confront the decisions that shape our global future.
•Colombiana (Buy at Amazon: DVD or Blu-ray)
In the action film Colombiana, Zoe Saldana plays Cataleya, a young woman who has grown up to be an assassin after witnessing the murder of her parents as a child. Turning herself into a professional killer and working for her uncle, she remains focused on her ultimate goal: to hunt down and get revenge on the mobster responsible for her parents' deaths.
•The Tempest (Buy at Amazon: DVD or Blu-ray)
The sorceress Prospera's journey spirals through vengeance to forgiveness as she reigns over a magical island, cares for her young daughter, Miranda, and unleashes her powers against shipwrecked enemies in this exciting, masterly mix of romance, tragicomedy and the supernatural.
•Catch .44 (Buy at Amazon: DVD or Blu-ray)
For Tes (Malin Akerman) and her two cohorts Kara (Nikki Reed) and Tara (Deborah Ann Woll), the job sounded simple enough: intercept a double-cross drug shipment for their crime boss Mel (Bruce Willis) at an isolated diner. But when an unstoppable chain of events unfolds, everyone soon realizes no one is who they seem and the job may be something other than eliminating the competition. What started as simple instructions has now turned into a deadly cat-and-mouse game – with large guns pointed at everyone.
•Straw Dogs (Buy at Amazon: DVD or Blu-ray)
David and Amy Sumner (James Marsden and Kate Bosworth), a Hollywood screenwriter and his actress wife, return to her small hometown in the deep South to prepare the family home for sale after her father's death. Once there, tensions build in their marriage and old conflicts re-emerge with the locals, including Amy's ex-boyfriend Charlie (Alexander Skarsgard), leading to a violent confrontation.
•One Tree Hill: Season 8 (Buy at Amazon: DVD)
Hope, heartbreak and a hurricane–all in One Tree Hill's Season Eight. So many plans glow with happiness in these 22 episodes packed with all the drama that makes Hill fans want to share every minute. But darkness mingles with the light.
•The Franchise: Season 1 (Buy at Amazon: DVD)
Unscripted, uncensored and unprecedented…this is no fantasy baseball. It s the players as you ve never seen them, all their stories and every fascinating moment — as it happens, the way it happens. SHOWTIME presents THE FRANCHISE: A SEASON WITH THE SAN FRANCISCO GIANTS, an MLB Productions Original Series. This gripping docu-series provides a candid look at the struggles, relationships and day-to-day lives of Major League Baseball players through unprecedented access to Giants players, their families, coaches and team personnel. Real, dramatic, intense, unexpected. It's baseball from the inside-out.