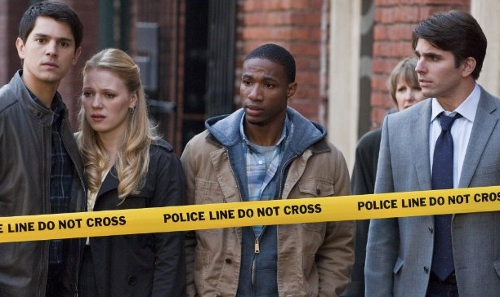 A few good TV shows are joined by a reinvigorated horror franchise in this upcoming week's DVD and Blu-ray releases.
Final Destination 5 (Buy at Amazon: DVD or Blu-ray/DVD combo)
In Final Destination 5, Death is just as omnipresent as ever, and is unleashed after one man's premonition saves a group of coworkers from a terrifying suspension bridge collapse. But this group of unsuspecting souls was never supposed to survive, and, in a terrifying race against time, the ill-fated group frantically tries to discover a way to escape Death's sinister agenda
Apollo 18 (Buy at Amazon: Blu-ray/DVD combo)
Officially, Apollo 17, launched December 17th, 1972 was the last manned mission to the moon. But a year later, in December of 1973, two American astronauts were sent on a secret mission to the moon funded by the US Department of Defense. What you are about to see is the actual footage which the astronauts captured on that mission. While NASA denies its authenticity, others say it's the real reason we've never gone back to the moon.
A Good Old Fashioned Orgy (Buy at Amazon: DVD)
A close group of 30-somethings spend every weekend throwing elaborate theme parties at their friend Eric's (Jason Sudeikis) family home in the Hamptons. When Eric's dad decides to sell off their summer playground, the friends agree there is only one way to have the biggest and brashest send off party, a good old fashioned orgy.
Inside Out (Buy at Amazon: DVD or Blu-ray)
For the last thirteen years AJ (Triple H) has been behind bars, convicted of manslaughter for killing a man who intended to kill his best friend, Jack (Michael Rapaport) a high-strung low-level mobster. Now released, AJ wants nothing more than to start a small business and live a life free of crime. Unfortunately, within hours of leaving prison, Jack involves AJ in an accidental shooting leaving a man dead. When Jack's father, local mob boss Dr. Vic (Bruce Dern), hears the news he wants the mess cleaned up, and fast. With the authorities hot on his trail, Jack is now forced to skip town. Well aware of Dr. Vic's violent past, AJ will stop at nothing to protect Jack's wife, Claire (Parker Posey), the woman he's always loved and her daughter Pepper (Juliette Goglia).
Shameless: Season 1 (Buy at Amazon: DVD or Blu-ray)
Set in working-class Chicago, the Gallagher family, a working class family of eight, must survive the ups and downs of today's recession. With a mother who is out of her element and an alcoholic father who usually ends up passed out on the living room floor, 18-year-old daughter Fiona is left with the task of keeping her five younger brothers and sisters on the straight and narrow. This series is based on the UK series of the same name.
Archer: Season 2 (Buy at Amazon: DVD or Blu-ray)
Archer is an animated, half-hour comedy set at the International Secret Intelligence Service (ISIS), a spy agency where espionage and global crises are merely opportunities for its highly trained employees to confuse, undermine, betray and royally mess up together.
The Borgias: Season 1 (Buy at Amazon: DVD or Blu-ray)
The show follows the Borgia family that rose to power in Italy during the Renaissance. Jeremy Irons leads the cast as Rodrigo Borgia who becomes Pope in 1492.