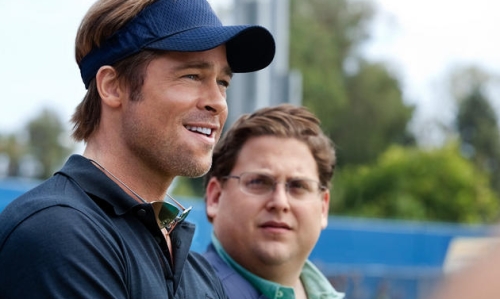 In a relatively light week of DVD and Blu-ray releases comes the highly-regarded baseball film Moneyball, the action-filled Killer Elite, and the first season of HBO's award-winning Boardwalk Empire.
Moneyball (Buy at Amazon: DVD or Blu-ray)
Based on a true story, Moneyball is a movie for anybody who has ever dreamed of taking on the system. Brad Pitt stars as Billy Beane, the general manager of the Oakland A's and the guy who assembles the team, who has an epiphany: all of baseball's conventional wisdom is wrong. Forced to reinvent his team on a tight budget, Beane will have to outsmart the richer clubs. The onetime jock teams with Ivy League grad Peter Brand (Jonah Hill) in an unlikely partnership, recruiting bargain players that the scouts call flawed, but all of whom have an ability to get on base, score runs, and win games. It's more than baseball, it's a revolution – one that challenges old school traditions and puts Beane in the crosshairs of those who say he's tearing out the heart and soul of the game
Killer Elite (Buy at Amazon: DVD or Blu-ray)
A match-up made in tough-guy heaven — Jason Statham, Clive Owen and Robert De Niro star in Killer Elite. Based on a shocking true story, Killer Elite pits two of the world's most elite operatives – Danny, an ex-special ops agent (Jason Statham) and Hunter, his longtime mentor (Robert De Niro) – against the cunning leader of a secret military society (Clive Owen). Covering the globe from Australia to Paris, London and the Middle East, Danny and Hunter are plunged into a highly dangerous game of cat and mouse – where the predators become the prey.
What's Your Number? (Buy at Amazon: DVD or Blu-ray)
Anna Faris is Ally Darling, who after reading a magazine article that leads her to believe she's going to be forever alone, begins a wild search for the best "ex" of her life.
The Scorpion King 3 (Buy at Amazon: DVD or Blu-ray)
Since his triumphant rise to power in the original blockbuster The Scorpion King, Mathayus' kingdom has fallen and he's lost his queen to plague. Now an assassin for hire, he must defend a kingdom from an evil tyrant and his ghost warriors for the chance to regain the power and glory he once knew.  Starring Ron Perlman (Hellboy) and Billy Zane (Titanic), and featuring 6-time WWE champion Dave Bautista and UFC star Kimbo Slice, The Scorpion King 3: Battle for Redemption takes The Mummy phenomenon to an all-new level of epic action and non-stop adventure!
Boardwalk Empire: Season 1 (Buy at Amazon: DVD or Blu-ray)
From Emmy-winning writer Terence Winter and Oscar-winning director Martin Scorsese, Boardwalk Empire is set in Atlantic City in 1920 at the dawn of Prohibition. The series chronicles the life and times of Enoch Nucky Thompson (Steve Buscemi), the city treasurer whose double role as politician and bootlegger makes him the city's undisputed czar at a time when illegal alcohol has opened up highly lucrative opportunities for rumrunners and distributors. In a city defined by notorious backroom politics and vicious power struggles, Nucky must contend with ambitious underlings, relentless Feds, rival gangsters — including Arnold Rothstein, Lucky Luciano and Al Capone — and his own appetite for women, profits, and power.