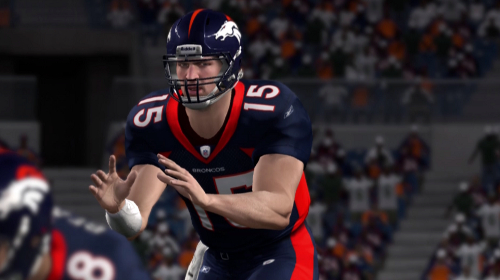 During his initial run of comebacks and displays of fourth quarter 'magic' Tim Tebow catapulted himself into a group of elite players that should find themselves under serious consideration for the cover of Madden NFL 13. Three straight poor outings at the end of the season seemingly dropped him out of the conversation. Following the thrilling slaying of the Steelers however there is no avoiding it – Tebow will be a contender for the cover whether the decision is made internally by EA Sports or through a fan-voting initiative. 
In the cover tournament for Madden NFL 12 Tebow was met with a first round ousting. There was some thought at the time that his supporters could push him further but coming off a season in which he was primarily utilized as a backup or in specific packages there was little traction for them or justification for others to throw their votes his way. After the story of this season comes to a close that will have changed dramatically.
Tebow helped lead the 1-4 Broncos to the playoffs and pull off a huge upset in dramatic fashion with more viewers watching than any Wild Card game in the last 18 years. Just today ESPN named him the most popular athlete in America and those huge TV ratings are no coincidence. This season he has engineered six late game winning drives – five of which were fourth quarter comebacks. Yes, he was a big reason why holes were dug in those games, but when the spotlight is on he has provided some brilliant moments and that is what people will remember. He even was recognized for the feats in Madden 12 by receiving the  "clutch trait" during the run.
Where Tebow also reaches – beyond arguably any other NFL player – is an audience who isn't necessarily NFL fans. His popularity has transcended sports in that regard. Whether he's deserving of all that attention based on his on-field performance is certainly debatable but it's hard to imagine anyone in the NFL right now that would make for a better marketing partner/endorser than Tebow. Luckily for EA Sports they already have an agreement in place with him following his cover appearance for NCAA Football 11. It's not hard to picture them continuing that relationship with Tebow by cutting a deal with him to be the face of Madden 13.
Ultimately even heated debates about whether Tebow deserves the cover or not would be welcome exposure from EA's standpoint for a series in Madden that has stagnated and lost critical cultural relevance. The news would spread beyond the typical gaming and sports reports and to the mainstream news outlets while social media activity would explode. It would be even better for the company if Tebow was a part of a cover tournament or voting process and ended up winning as that would give them an opportunity to milk the story for longer while touting that the fans were the ones who made the final decision.
Regardless of the fashion in which it may don't be surprised if Tebow's name comes up when the time arrives to discuss the Madden NFL 13 cover voting or selection.