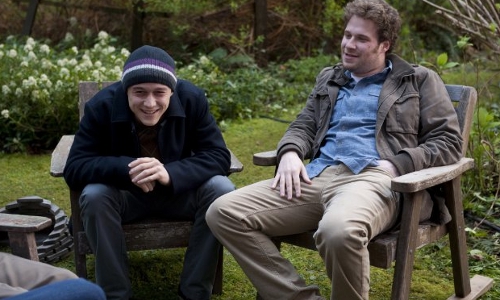 Three major films get their release on DVD and Blu-ray this week with nothing really worth noting beyond them. Real Steel was one of my favorite movies of the year and a great family film, 50/50 has gotten incredible response with its mix of drama and comedy, and Paranomal Activity 3 brings the scares.
Real Steel (Buy at Amazon: DVD or Blu-ray/DVD Combo)
A gritty, white-knuckle, action ride set in the near-future where the sport of boxing has gone high-tech, Real Steel stars Hugh Jackman as Charlie Kenton, a washed-up fighter who lost his chance at a title when 2000-pound, 8-foot-tall steel robots took over the ring. Now nothing but a small-time promoter, Charlie earns just enough money piecing together low-end bots from scrap metal to get from one underground boxing venue to the next. When Charlie hits rock bottom, he reluctantly teams up with his estranged son Max (Dakota Goyo) to build and train a championship contender. As the stakes in the brutal, no-holds-barred arena are raised, Charlie and Max, against all odds, get one last shot at a comeback.
50/50 (Buy at Amazon: DVD or Blu-ray)
Inspired by a true story, 50/50 is an original story about friendship, love, survival and finding humor in unlikely places. Joseph Gordon-Levitt and Seth Rogen star as best friends whose lives are changed by a cancer diagnosis in this new comedy directed by Jonathan Levine from a script by Will Reiser. 50/50 is the story of a guy's transformative and, yes, sometimes funny journey to health – drawing its emotional core from Will Reiser's own experience with cancer and reminding us that friendship and love, no matter what bizarre turns they take, are the greatest healers.
Paranormal Activity 3 (Buy at Amazon: DVD or Blu-ray/DVD Combo)
The Paranormal Activity franchise continues with this third outing from Paramount Pictures. Oren Peli and Jason Blum return to produce the highly secretive feature, with Catfish's directing duo of Henry Joost and Ariel Schulman taking on the helming duties.