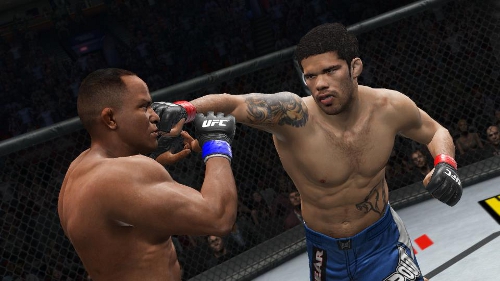 It has been known for a while that THQ was planning downloadable content for UFC Undisputed 3 and now comes some general details on what to expect and when. While specific fighters are not named the "packs" are themed and could hint at who will ultimately be included considering a number of notable fighters were left off the base rosters. 
ALL UNLOCKABLES – Unlock over 150 attires and nicknames for instant use! (Available Day 1)
ALISTAIR OVEREEM – Available for the first time in the Undisputed™ franchise! (Available Day 1)
FIGHTER PACK: FIGHT OF THE NIGHT PACK – A collection of fighters who've stolen the show on UFC Pay Per Views! (Available March 2012)
ULTIMATE FIGHTS: ULTIMATE UPSETS PACK – The unpredictability of the UFC is the focus of this Ultimate Fights collection. Relive some of the most surprising outcomes in the Upsets Pack! (Available March 2012)
FIGHTER PACK: INTERNATIONAL PACK – A set of UFC's best fighters from every corner of the globe! (Available April 2012)
ULTIMATE FIGHTS: MIXED BAG PACK – Download this bundle for a collection of some of UFC's most memorable fights! (Available April 2012)
While pricing has not been revealed THQ did state that the DLC represented "over $20 value" and that it will come free to those who purchase the game from their official website. Those who get the game elsewhere will have the option to buy the DLC individually or get it all through an as of yet to be detailed "season pass".
Anyone who really wants the game on release day though should be hesitant to take advantage of the deal. The company was unable to fulfill orders for WWE 12 in November – with some consumers not receiving their copies until weeks later. They offer no delivery guarantee for games bought through the site. If immediacy is not important, but getting the DLC for free is, then it could still be worth consideration. Otherwise it would be best to go with Gamestop (for the four exclusive fighters they are offering) or Amazon (for the $10 promotional credit that is included).