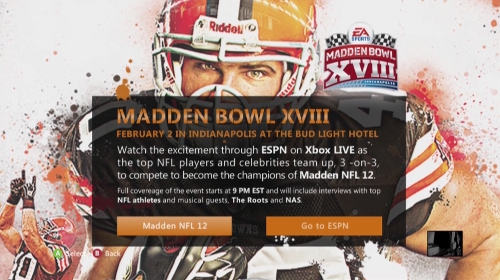 The live Madden Bowl broadcast last year was widely ridiculed and rightfully so (see my review). It was an unmitigated disaster. Not only was the programming dull – primarily filler with very little footage of the athletes actually playing Madden – but obscene messages were on full display throughout the evening.
EA and ESPN will hopefully be better prepared and provide more relevant content for Madden Bowl XVIII which takes place in Indianapolis on Thursday. Coverage begins at 9ET/6PT on ESPN3 – which can be accessed through the Xbox Live app (which has proven to be excellent) or on the web.
Once again teams of three will compete in Online Team Play mode. That makes it possible to involve more athletes and celebrities but in turn has taken some of the personality out of the competition while Team Play was more relevant last year as a new feature than with Madden NFL 12. Grouping in this manner also means fewer total games which is part of what made the previous Madden Bowl rely so much on unrelated fluff pieces and interviews.
Will you be tuning in to Madden Bowl XVIII on Thursday night – or do you have no interest or lost it after last year's debacle?