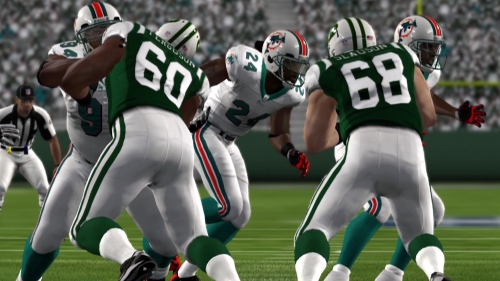 Though there is little to go on at this juncture regarding the extent to which it will ultimately develop a tweet from Donny Moore has revealed that ratings for offensive lineman will be getting worked on for Madden NFL 13. One of the gameplay interns is Clint Oldenburg, a former NFL and UFL offensive lineman, who apparently will be taking on the task of making lineman ratings more meaningful and better reflective of their true impact and influence. That'll probably require a revamp rather than simply adjusting ratings under the current system.
This could amount to a significant enhancement to gameplay as the action in the trenches has been somewhat neglected over the years. Some would argue that ratings have meant absolutely nothing for offensive lineman – and regardless of whether the case or not it's been obvious that there was little to no differentiation between them whether in performance or style. Either the offensive lineman would get beat terribly or they would hold their ground and either they would miss an assignment or they wouldn't.
At the very least it's encouraging to hear that offensive lineman ratings are going to be addressed in some manner but whether that is ultimately seen through completely and effectively will been open to interpretation down the line.