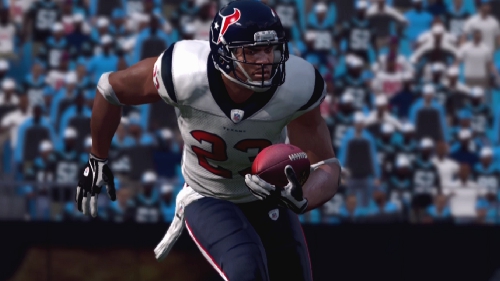 At the mid-season point I put together a list of potential candidates for the Madden NFL 13 cover. The assumption was made that another tournament would be held and for the purpose of that analysis any players that were eligible the year prior were eliminated as were those scheduled to be free agents. Now that the season is complete and details about the cover tournament have come out it's time to reassess who may be in play for the honor this year.
64 players will be included – 2 from each team that will face off in the first round to be their respective team's representative in the bracket of 32. This will make it easier to include some players for a second straight year but free agents will likely still be excluded. Here's a look at the favorites for EA Sports to involve in the cover tournament process for the AFC!
*Current Madden NFL 12 overall rating in parenthesis for selected players
•Also see: NFC Predictions
Broncos: Von Miller (87), Tim Tebow (77)
Tebow has all but been confirmed by EA to be involved in the tournament and he earned his spot with memorable moments. Whether he's considered the favorite to win the whole thing is arguable but whoever he goes up against is going to get slayed. That caused the removal of Champ Bailey as it might come across as an insult to him, as a veteran with a brilliant career, to be picked but obviously headed out of it immediately. He probably should have been involved in the tournament last year rather than Tebow. So the well-deserving rookie Von Miller who recorded 11.5 sacks could be the second choice.
Chargers: Antonio Gates (96), Eric Weddle (92)
Surprisingly the Chargers don't have many great options to be their representative. Gates gets the nod for his career work and past marketing relationship with EA Sports – he put up 64 catches and 7 TDs despite dealing with an injury that cost him 3 games. Pro Bowler Eric Weddle could take the slot that many would give to Philip Rivers who also made the Pro Bowl despite a down season (20 INTs and 7 FUMs) after being involved in last year's tournament. Weddle tied for the league lead with 7 INTs.
Chiefs: Tamba Hali (95), Brandon Flowers (93)
Season long injuries cost Kansas City's most marketable players, Jamaal Charles and Eric Berry, the shot at the cover. Brandon Flowers and Derrick Johnson performed well enough to consider while Dwayne Bowe had strong numbers but a big drop-off in TDs and is a free agent. Tamba Hali though really stepped up, particularly in nationally televised games, and is the highest rated player on the team and Brandon Flowers gets the second slot for similar reasons.
Raiders: Shane Lechler (99), Sebastian Janikowski (98)
This could be an opportunity for EA to get unorthodox with their selections. Why not go with the two extraordinary special team players? Shane Lechler is the only punter to reach the 99 overall rating while Sebastian Janikowski is the highest rated kicker in the game and tied the record for longest field goal in NFL history this season. Darren McFadden was in the tournament last year so he's taken out of the running now not just for that reason but due to injuries that limited him to 7 games played. In turn that could open the door for Michael Bush. Richard Seymour might be the best option otherwise – he has been a premiere player for the Raiders since they got him from the Patriots – but 29 tackles and 6 sacks doesn't exactly scream cover athlete worthy.
Bengals: AJ Green (87), Andy Dalton (81)
Last year all the Bengals could offer for the tournament was Carlos Dunlap – that makes it pretty obvious that the two impact rookies could be the guys this time around. Both players made it to the Pro Bowl and helped take a team expected to be in the cellar to the Playoffs. Leon Hall or Jermaine Gresham could also be considerations.
Browns: Joe Thomas (98), Joe Haden (90)
There's no way EA will let another player from the Browns get the cover. The expectation here would be for a couple unappealing candidates to be presented – probably from the offensive line or kicker. They may very well avoid Josh Cribbs and even Joe Haden for that reason. Browns fans don't seem thrilled with Thomas' performance this past season – so that could give him an edge – while I'll go ahead and slot in Haden over Phil Dawson. It's unlikely any Browns contingent will make a strong push this year after getting saddled with the "cover curse" on Peyton Hillis.
Ravens: Haloti Ngata (98), Terrell Suggs (96)
The choice would almost certainly come from the defense – the problem is there are four terrific options. Ngata is the highest rated along with Ed Reed at 98 but both Terrell Suggs and Ray Lewis are right behind them. A slight edge here for one spot goes to Ngata who signed a five year contract a few months back (he would be one of the few defensive tackles in the league that could make it in) with Terrell Suggs and his growing high-profile persona getting the second spot as the Defensive Player of the Year winner. Suggs could be one of the favorites to win it all.
Steelers: Brett Kiesel (92), Mike Wallace (91)
There could be the question of whether the NFL would be alright with James Harrison representing their product. For that reason, along with Ben Roethlisberger being far from an ideal spokesperson, Mike Wallace would be a solid pick here. He's actually a restricted free agent but is all but certain to be back. LaMarr Woodley or Brett Keisel would then come into discussion and that would be a toss-up with the beard being the advantage. Also can't count out Troy Polamalu despite not having quite the same impact as of late and becoming a tired Madden option (on Madden 10 cover, in tournament last year).
Colts: Adam Vinatieri (90) Pat Angerer (81)
As the worst team in the league no option is going to be particularly appealing. Robert Mathis would be the highest rated on the team but is slated to be a free agent as is Jeff Saturday. Adam Vinatieri for his career work and Pat Angerer got the most consideration here then. Second year player Angerer was fourth in the league in tackles. EA could also possibly fall back on Dwight Freeney again after having been involved in several past campaigns.
Jaguars: Maurice Jones-Drew (98), Daryl Smith (93)
The Jaguars one offensive threat, Maurice Jones-Drew, got his shot last year but would seem a lock to be back yet again. Leading the league in rushing on a terrible offense is no small feat. He has a strong relationship with EA Sports and takes Madden seriously so he'll always be in the mix. Beyond him though there is very little to pick from. Daryl Smith is the highest rated player otherwise while Rashean Mathis and Josh Scobee are both set to be free agents. Paul Posluszny or Smith will probably get that second spot.
Texans: Arian Foster (96), J.J. Watt (88)
Foster should be considered a lock to be involved in the tournament. Who will be paired with him, and probably lose handily, is the question. Andre Johnson would be the immediate name that comes to mind but he was in the tournament last year and I suspect EA will be hoping Foster goes a long ways in the tourney and therefore will put him up against someone more easily beatable. Johnathan Joseph, Brian Cushing, or JJ Watt next come to mind. The rookie Watt, who made the big INT-TD in the Wild Card round against the Bengals, would make for the best opponent for Foster without being a real threat.
Titans: Rob Bironas (97), Michael Roos (92)
What team was the most difficult to find two suitable cover candidates for? Easily that is the Titans – somewhat surprising considering they were on the cusp of making the Playoffs. Cortland Finnegan and Michael Griffin are set to be a free agents while Kenny Britt was out for most of the season. That leaves names like Rob Bironas, Michael Roos, David Stewart, or Chris Johnson (off a terrible year). EA could also go forward-thinking and maybe choose Jake Locker but he would stand out in a group of players who earned their way on rather than sat most of the season.
Bills: Fred Jackson (92), Nick Barnett (89)
The obvious choice here is Fred Jackson, who took his initial Madden NFL 12 rating from 80 to a peak of 93 before getting injured and missing the last 6 games of the season. The second option will be more difficult to determine. Stevie Johnson was in the tournament last year and is a free agent so he's out. Marcell Dareus, Nick Barnett, or Jairus Byrd might be the names considered. The edge might seem to go to Dareus but my pick is Barnett – Jackson will likely move on regardless of who he faces.
Dolphins: Cameron Wake (95), Reggie Bush (82)
Miami was one of the two teams last year that got stuck with an offensive lineman as their rep. I don't think they'll do that again so Jake Long is out. Brandon Marshall and Vontae Davis would be worthy of the recognition but Cameron Wake and Reggie Bush seem like the two favorites here. Bush, as a former EA cover athlete, actually would have justified his placement with a strong close to the season (519 yards rushing in the last 4 games).
Jets: Darrelle Revis (98), D'Brickashaw Ferguson (91)
It's hard to imagine anyone other than Revis getting a nomination and advancing for the Jets. He finished the year rated 98 but was 99 at one time and is the definition of a "shutdown" corner. After that things get more shaky for the dysfunctional team. Mark Sanchez definitely doesn't deserve to be in again – so Nick Mangold and D'Brickashaw Ferguson are probably the two guys who deserve some consideration. Revis will be moving on regardless of who he faces.
Patriots: Rob Gronkowski (98), Vince Wilfork (97)
At the mid-season point Wes Welker looked to be a sure thing as a Patriots cover representative in a tournament. He didn't do anything to drop himself out of the running considering he had 122 receptions – just other players surged in a more dramatic fashion later in the season and in the Playoffs. He's also a free agent but probably will be back. So instead the focus shifts to the record-breaker for tight ends with 17 TDs in Rob Gronkowski (he got more pub than anyone leading up to the Super Bowl due to his ankle injury) and Wilfork who has been a dominating force in the trenches and even has a couple memorable INTs from the season. Tom Brady again is not a reasonable expectation for any Madden cover involvement.