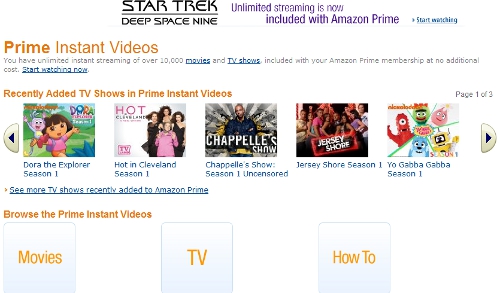 Amazon today announced that they have reached a deal with Viacom to bring new content to the Instant Streaming service which is free for those with Amazon Prime. The deal means programs from MTV, Nickelodeon, Comedy Central, TV Land, and VH1 joins the service.
We're adding something for the family with Nickelodeon favorites like Avatar: The Last Airbender, Dora the Explorer, iCarly, and Yo Gabba Gabba. We're adding comedy with titles likeChappelle's Show, The Sarah Silverman Program,Strangers with Candy, and Hot in Cleveland. And we're adding reality TV with several past seasons ofThe Real World, Basketball Wives, and Jersey Shore. Together with the existing movies and shows from CBS, Fox, Disney-ABC, PBS, NBC, Sony, and Warner Bros., we now offer, at no additional cost, unlimited instant streaming of more than 15,000 titles.
Prime Instant Streaming still doesn't offer enough value to buy the service on its own – as opposed to the free 2-day shipping/cheap overnight shipping which is the primary function – but Amazon appears to be making a concerted effort to get it to that status and eventually compete with Netflix Instant.