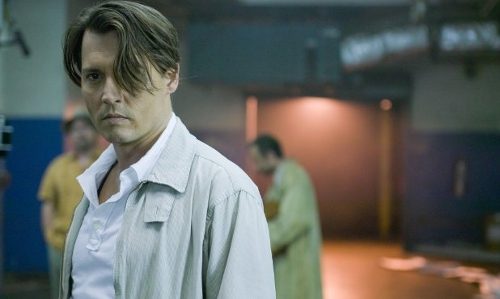 It's a lackluster at best lineup of new releases hitting on DVD and Blu-ray this week. The biggest one is The Rum Diary and even that only made $13 million at the box office. The latest season of Beavis and Butt-Head however is well worth picking up.
The Rum Diary (Buy at Amazon: DVD or Blu-ray)
Based on the debut novel by Hunter S. Thompson. Tiring of the noise and madness of New York and the crushing conventions of late Eisenhower-era America, Paul Kemp (Johnny Depp) travels to the pristine island of Puerto Rico to write for a local newspaper, run by downtrodden editor Lotterman (Richard Jenkins). Adopting the rum-soaked life of the island, Paul soon becomes obsessed with Chenault (Amber Heard), the wildly attractive Connecticut-born fiancée of Sanderson (Aaron Eckhart). Sanderson is one of a growing number of American entrepreneurs who are determined to convert Puerto Rico into a capitalist paradise in service of the wealthy. When Kemp is recruited by Sanderson to write favorably about his latest unsavory scheme, the journalist is presented with a choice: to use his words for the corrupt businessmen's financial benefit, or use them to take the bastards down.
Paranormal Activity 3 (Buy at Amazon: DVD)
Previously released on Blu-ray/DVD combo. The Paranormal Activity franchise continues with this third outing from Paramount Pictures. Oren Peli and Jason Blum return to produce the highly secretive feature, with Catfish's directing duo of Henry Joost and Ariel Schulman taking on the helming duties.
Human Centipede II (Buy at Amazon: DVD or Blu-ray)
Tom Six's internationally controversial follow-up to the original cult smash, The Human Centipede: Full Sequence ups the ante with a brute force unparalleled in motion pictures today.
Take Shelter (Buy at Amazon: DVD or Blu-ray)
Curtis LaForche lives in a small Ohio town with his wife Samantha and six-year-old daughter Hannah, who is deaf. Money is tight, and navigating Hannah's healthcare and special needs education is a constant struggle. Despite that, Curtis and Samantha are very much in love and their family is a happy one. Then Curtis begins having terrifying dreams about an encroaching, apocalyptic storm. He chooses to keep the disturbance to himself, channeling his anxiety into the obsessive building of a storm shelter in their backyard. But the resulting strain on his marriage and tension within the community doesn't compare to Curtis' private fear of what his dreams may truly signify. Faced with the proposition that his disturbing visions signal disaster of one kind or another, Curtis confides in Samantha, testing the power of their bond against the highest possible stakes.
The Dead (Buy at Amazon: DVD or Blu-ray)
The two desperate men from two very different cultures fight side by side to survive across the incredible vistas of Africa as the world succumbs to the deadliest of viruses.
Elite Squad (Buy at Amazon: DVD or Blu-ray)
After a prison riot, former-Captain Nascimento, now a high ranking security officer in Rio de Janeiro, is swept into a bloody political dispute that involves government officials and paramilitary groups.
Beavis and Butt-Head: Volume 4 (Buy at Amazon: DVD or Blu-ray)
Beavis and Butt-Head: Volume 4 features all 12 episodes from the latest season, including the highly-anticipated return of the great Cornholio.  The Blu-ray and two-disc DVD also include the 2011 Comic-Con panel in which Mike Judge and moderator Johnny Knoxville discuss the return of the series to MTV, Beavis and Butt-Head making prank calls to certain famous New Jersey residents and a public service announcement featuring the boys.