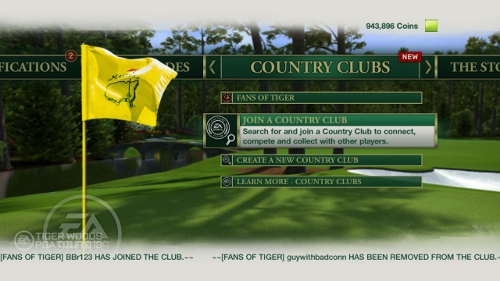 EA Sports has released a set of blogs for Tiger Woods PGA Tour 13 detailing a new feature in "Online Country Clubs" and an in-game currency to be known as "coins".
The Country Clubs feature acts as a clan of sorts with the opportunity to set up custom live tournaments (which have web integration) while play in any mode earns "status points" for the club. There is competition within the clubs with rankings based on those "status points" that can lead to "coin" awards and admission to a special Club Champion Tournament. Check out the full blog on the Online Country Clubs here.
The "coins" aspect will allow for building up of the in-game currency to use on getting to play rounds of paid downloadable content courses and "boost pin packs" which are essentially power-ups. Check out the full blog on the implementation of a "coins" system here.
In addition EA has announced that the demo will arrive three weeks before release of the game on Tuesday March 6th. Details on what will be included in the demo though will follow at a later date.