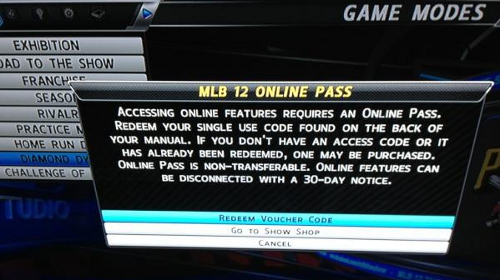 With copies starting to circulate confirmation has come in that MLB 12: The Show is introducing its own version of the "Online Pass" which restricts access to online functionality for those who don't buy the game new requiring payment in order to take advantage of those features. This news is not unexpected as last summer Sony made it clear that all of their first party titles would utilize them going forward.
It's worth noting that not only will standard online games and leagues require the "Online Pass" but so will the brand new 'Diamond Dynasty' mode. Thanks to Chris Johnson on Twitter for forwarding the above image that pops up when Diamond Dynasty is selected.
As was the case last year SCEA currently does not plan to turn on the online servers for MLB 12: The Show until Tuesday morning. That's important to keep in mind when early reviews roll out – they will not have played online at all in the public environment and potentially even unable to evaluate Diamond Dynasty mode – and also a bummer for those who choose to pick up the game at midnight as they won't even be able to play online immediately but instead must wait until that morning/afternoon.
Concern is warranted as online performance has been the biggest weakness of the series and the decision is one that won't instill immediate confidence. Not only will the early reviews be unable to take online into consideration but now with the "Online Pass" the company absolutely has to finally deliver improvements and bring it up to the standard consumers expect in order to justify the program.