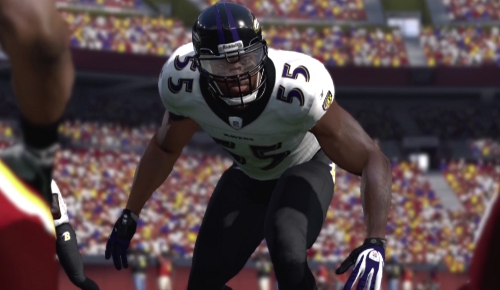 The round of dual team representatives in the Madden NFL 13 cover tournament continues with results being compiled until and then announced later on March 21. I've applied unofficial seedings from 1-64 based on cover worthiness and potential to win the tournament. The names with the best outlook include Arian Foster, Cam Newton, Terrell Suggs, and Tim Tebow. Of course all of that could be thrown for a loop as proven last year with the fan campaign driven by Browns fans for Peyton Hillis. 
Arizona Cardinals: Larry Fitzgerald (18) vs Patrick Peterson (31)
San Francisco 49ers: Patrick Willis (15) vs Vernon Davis (26)
Seattle Seahawks: Marshawn Lynch (8) vs Earl Thomas (40)
St. Louis Rams: Chris Long (50) vs Brandon Lloyd (63)
•Marshawn Lynch comes in with considerable buzz for his feats over the past two years – while Larry Fitzgerald remains a formidable entrant even if he no longer feels like a fresh option. The battle between Patrick Willis and Vernon Davis will be an intriguing one. Despite Davis' huge catch in the divisional playoff round Willis remains the more well known of the two and represents the 49ers' strong defense. Chris Long should move on unless voters find themselves more amused in putting their support behind someone who likely won't even be a Ram within the next week.
Chicago Bears: Jay Cutler (36) vs Matt Forte (23)
Detroit Lions: Calvin Johnson (6) vs Matt Stafford (29)
Green Bay Packers: Aaron Rodgers (7) vs Clay Matthews (28)
Minnesota Vikings: Jared Allen (30) vs Percy Harvin (57)
•Megatron and Aaron Rodgers are the prime candidates from the NFC North. Both would be great representatives for the Madden series. Rodgers couldn't win the tournament last year coming off an MVP and SB MVP season so his chances would seem further reduced however. Matt Forte will probably advance as will Jared Allen.
Atlanta Falcons: Matt Ryan (38) vs Julio Jones (42)
Carolina Panthers: Cam Newton (2) vs Steve Smith (39)
New Orleans Saints: Drew Brees (11) vs Jimmy Graham (16)
Tampa Bay Buccaneers: Josh Freeman (52) vs LeGarrette Blount (59)
•Cam Newton is the favorite out of the AFC South. The negative connotation with bounties will probably cost the Saints some fan support even though both candidates are from the offense. Though mediocre options both the Falcons and Bucs could push through either of their guys but none of which have long-term potential.
Dallas Cowboys: Jason Witten (37) vs DeMarcus Ware (17)
New York Giants: Jason Pierre-Paul (27) vs Victor Cruz (9)
Philadelphia Eagles: Michael Vick (14) vs LeSean McCoy (13)
Washington Redskins: Brian Orakpo (48) vs Ryan Kerrigan (62)
•Victor Cruz and Brian Orakpo should win with relative ease while DeMarcus Ware will probably come out victorious as well. Vick vs McCoy is potentially the tightest match-up of the whole round. Vick, runner-up last year, still has his legion of supporters. McCoy however had the superior season – something fantasy players don't forget – while also not having the negative past to confront.
Denver Broncos: Tim Tebow (4) vs Von Miller (51)
Kansas City Chiefs: Dwayne Bowe (44) vs Derrick Johnson (55)
Oakland Raiders: Sebastian Janikowski (19) vs Shane Lechler (45)
San Diego Chargers: Philip Rivers (35) vs Antonio Gates (22)
•Everyone assumes Tim Tebow will cruise to victory in this tournament but that is based on only his supporters working heavily in his favor and not his detractors who could try and knock him out. It'd be wild if he ends up on another team here soon should Peyton Manning sign in Denver. Sebastian Janikowski gets the edge over Shane Lechler due to position and a record-setting kick in one of the coolest match-ups in the round (battle of 99 vs 98 rated). Philip Rivers had a shot last year but couldn't pull it off and followed that up with a poor season which could give Antonio Gates an opportunity. Dwayne Bowe should move on just due to higher fan recognition.
Baltimore Ravens: Terrell Suggs (3) vs Ray Rice (25)
Cincinnati Bengals: Andy Dalton (47) vs A.J. Green (43)
Cleveland Browns: Joe Thomas (60) vs Joe Haden (58)
Pittsburgh Steelers: Ben Roethlisberger (32) vs Troy Polamalu (20)
•If Terrell Suggs can't win this tournament then it's tough to imagine any defensive player ever will prevail in a setup of this nature. Suggs comes off winning DPOY and his exposure level has risen dramatically. Otherwise the division's participants are fairly weak. Big Ben was a surprise inclusion, but even coming off a down year Troy Polamalu will likely win that pairing since there isn't the level of hatred out there towards him. Browns fans certainly aren't going to push another one of their players far and while the Bengals due had great rookie seasons it's still hard to imagine they'll get much support nationally.
Houston Texans: Arian Foster (1) vs Andre Johnson (21)
Indianapolis Colts: Dwight Freeney (49) vs Robert Mathis (53)
Jacksonville Jaguars: Maurice Jones-Drew (10) vs Blaine Gabbert (64)
Tennessee Titans: Chris Johnson (46) vs Jake Locker (61)
•Arian Foster enters as my top seed in the tournament. He's earned it on the field, increased his presence through the media and social channels, and is a fantasy football favorite. Maurice Jones-Drew gets the easiest draw of the tournament as he gets to face a guy who had a worse first season than Jimmy Clausen. Even EA Sports couldn't help but rip Blaine Gabbert in their "justification" for putting him in the competition. The huge drop-off for Chris Johnson last season severely hurt his appeal, Jake Locker barely saw the field, and no support is going the way of a team that won two games.
Buffalo Bills: Ryan Fitzpatrick (56) vs Stevie Johnson (41)
Miami Dolphins: Brandon Marshall (34) vs Reggie Bush (24)
New England Patriots: Rob Gronkowski (5) vs Wes Welker (33)
New York Jets: Darrelle Revis (12) vs Mark Sanchez (54)
•Rob Gronkowski is already pushing for support through social media, videos, and other outlets making him sure to be one of the toughest outs in the tournament. Darrelle Revis is another secure one here, and Reggie Bush could make a run after having a strong second half of the season. Stevie Johnson gets the edge in Buffalo after re-signing. We already have the first of the nominees to change teams with the surprise trade of Brandon Marshall to the Bears.