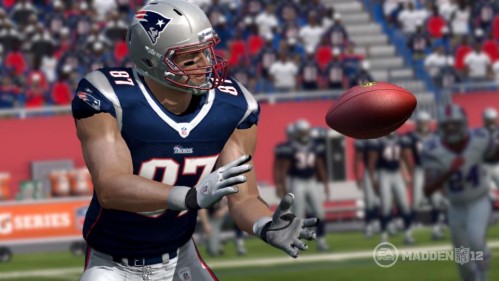 The Madden NFL 13 cover tournament will advance to the round of 32 on Wednesday. While there have been some side-stories relating to the players involved, such as Blaine Gabbert's inclusion in the field, Brandon Lloyd being a Rams representative, Brandon Marshall getting traded, and Tim Tebow now on his way out of Denver, those are not of the troubling nature that news has brought today. Deadspin has the story on Patriots tight end Rob Gronkowski having allegedly hooked up with a 16 year old in Aruba. That is obviously not the type of story EA Sports would choose to be associated with.
Despite it not being illegal (age of consent there is 16), and regardless of whether it happened or not, this is a terrible situation for EA Sports to find themselves in. Gronkowski is considered to be one of the favorites in the tournament and he has been heavily pushing his candidacy through social media. It would be a PR nightmare for the company if he were to become the face of Madden NFL 13 – this is not the image that would be desired for promotional purposes.
Not long ago Gronkowski would have been thought of as a great choice for the Madden cover. He put up record numbers this season and had become a media and fan favorite while building a strong presence through social media. Now though his exposure level is making him potentially more dangerous as someone to associate with. He got into hot water for tweeting a picture of himself with a porn star wearing his jersey in his bedroom, partied publicly hours after losing the Super Bowl, and now this. He's a risk for more negative attention to come out at any time.
EA could choose to yank Gronkowski from tournament contention or they could massage the results to ensure he won't advance far enough to create additional bad PR. Fans could look to try and vote him on given the situation just for the sake of amusement, just as they could put their support behind other players for various reasons. That is a situation EA is going to need to avoid and the proper course of action may be to remove him and let Wes Welker move on in his place as the Patriots' rep.
The only thing worse than a Blaine Gabbert cover now may be one featuring Rob Gronkowski.