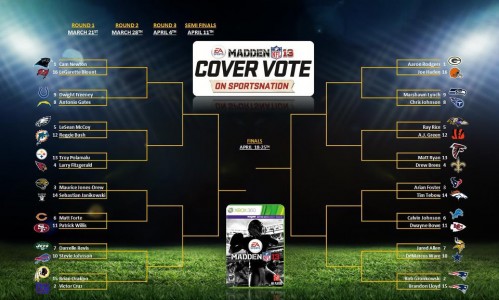 There was only one big surprise from the round of dual team representatives for the Madden NFL 13 cover. In fact, based on the preview last week, almost every player that was expected to advance did – the only exceptions being LeGarrette Blount and Brandon Lloyd which hardly would be considered upsets. Lloyd, now a Patriot, will face off against the original team rep Rob Gronkowski, who at least at this point remains in the tournament despite serious concerns. Last year's tournament runner-up Michael Vick is already gone with LeSean McCoy knocking him out earlier than some may have anticipated.
The sole significant upset was Terrell Suggs going down to Ray Rice. Suggs should have been considered a favorite to win the whole tournament. Coming off Defensive Player of the Year honors, and an exposure level that skyrocketed last season, his loss bodes poorly for any defensive players involved. With any process that relies on fan voting it may simply be that no one from that side of the ball will be able to seriously contend and that is unfortunate.
Tim Tebow, the New York Jet or maybe not, gets a tough draw by having to face Arian Foster who should win the match-up between the two. If the Tebow trade ends up falling apart and he goes to the Rams then at least they would have a participant in the tournament!
Aaron Rodgers and Cam Newton have captured the #1 seeds while Victor Cruz and Gronkowski nab the #2 seeds. Voting is completed on the ESPN page where the first round will continue until next Monday. The results will then be announced with the second round getting underway immediately thereafter.