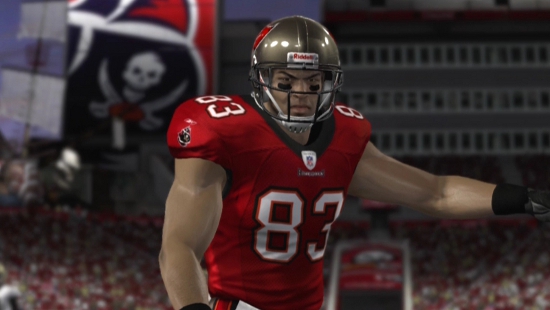 Over 10 days now into the new league year and free agency is starting to tail off with most of the major names having been taken off the market. Teams are beginning to shape up and needs heading into next month's NFL Draft are more apparent.
Here is a look at the teams that have made out best for Madden NFL 13 and those that are likely to have their status plummet. This is not necessarily an evaluation of which teams have had the best or worst offseasons to this point but rather those who have benefited the most, missed out on opportunities, or lost talent as it relates to Madden NFL 13. 
Winners
•Buffalo Bills
In going to a 4-3 the Bills targeted pass rushers and got the top one on the market and a second good one. Mario Williams, who's rated 96 as a DE in Madden, is the big prize but combined with Mark Anderson (79), Kyle Williams (92), and Marcel Dareus (84) it is the line as a whole which will be feared. The team also re-signed Stevie Johnson.
•Tampa Bay Buccaneers
After a disastrous stretch losing 10 games to end the season it became more clear than ever that the Bucs, who didn't spend their available cash last year, would have to this time around. They made a splash immediately signing a #1 receiver in Vincent Jackson (89) and the best lineman available and second best rated free agent period Carl Nicks (97). They also added Eric Wright (78) and will get back Ronde Barber for another year.
•Chicago Bears
Off the field and locker room concerns don't factor into Madden so acquiring Brandon Marshall (92) is a big step up for the Bears who lacked a premiere receiving target. Bringing in Michael Bush (81) was another critical move considering the uncertain future of Matt Forte and retirement of Marion Barber – and they finally got a legit backup QB in Jason Campbell (84).
•St. Louis Rams
Jeff Fisher was able to recruit the top rated FA corner in Cortland Finnegan (93). An overlooked addition is d-lineman Kendall Langford (88). Also have to consider the bounty they picked up in sliding down just four slots in the NFL Draft.
•San Francisco 49ers
The 49ers re-signed their players including Alex Smith and Carlos Rogers which was the most important goal to achieve. They'll return their entire starting defense. Randy Moss (84) presents little risk but some potential of reward as he can easily outperform his rating in Madden while Mario Manningham (81) adds another option to the passing game.
•Denver Broncos
Signing arguably the biggest free agent of all-time (Peyton Manning – 98) makes the Broncos a winner even if the process took so long that they were unable to grab any other premiere options in free agency to help out. They have added several new players despite that with Andre Caldwell (76), Mike Adams (76), Tracy Porter (80), Jacob Tamme (79) and Joel Dreessen (76).
•Kansas City Chiefs
KC has brought in some talented players this offseason. Stanford Routt (86) allowed for the team to let go of Brandon Carr, Kevin Boss (76) makes for a solid backup at tight end, Peyton Hillis (85) becomes the power back option being paired with Jamaal Charles, and Eric Winston (90) is one of the best right tackles in the game.
Losers
•Miami Dolphins
This is a team that appears to be facing many questions particularly as it relates to the front office/ownership and ability to attract talent. Fans are frustrated and even picketing and players are stating publicly why they chose to go elsewhere. Runs at Peyton Manning, Matt Flynn, and Alex Smith all came up empty. Richard Marshall is the only free agent of note to sign. The team also traded away its top weapon in Brandon Marshall. Even though they were prepared to cut him outright if they couldn't find a trade partner the reasons behind the desire to dump him mean nothing in Madden so his loss will be a costly one. One of the team's best defensive players Yeremiah Bell was also released. The Dolphins are the clear candidate for biggest drop-off.
•Washington Redskins
The Redskins got hit by the severe cap penalty heading into free agency and it may have cost them an impact wide receiver in Vincent Jackson. Instead they settled with signing two receivers, Pierre Garcon and Josh Morgan, who are mediocre in Madden (rated 79 and 78 respectively). The drop-off from LaRon Landry to the recently signed Brandon Meriweather is huge – 17 points. Despite this Redskins fans have reason for hope knowing they'll be getting Robert Griffin III in the NFL Draft who is said to be possibly the most effective rookie in Madden franchise history.
•Oakland Raiders
Not only have they been unable to sign anyone of note due to their salary cap status they've had to cut good players in order to finagle themselves under the cap. They've lost Kamerion Wimbley, Stanford Routt, Michael Bush, and Kevin Boss.
•Cleveland Browns
The Browns have been inactive in free agency and have not signed anyone of note. They came up empty in an attempt to trade up and get Robert Griffin III. They also lost the (overrated in Madden) Peyton Hillis.
•Arizona Cardinals
Lack of cap room really hurt the Cardinals – and probably hampered their attempt to get Peyton Manning. The team didn't have the opportunity to make a splash in free agency.
•Indianapolis Colts
The Colts lose one of the best NFL QBs ever in Peyton Manning, Pierre Garcon, Jeff Saturday, Jacob Tamme, Ryan Diem, and almost surely Dallas Clark. They did surprisingly re-sign Reggie Wayne and still have their great duo at defensive end. They'll also get to add Andrew Luck in the NFL Draft so things aren't as dire as they may seem.