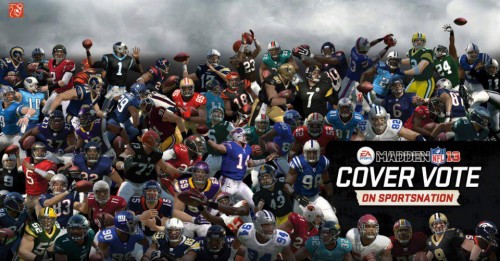 The Madden NFL 13 cover tournament has reached the Sweet 16! No true surprises emerged from the last round. Most of the higher seeds won and the few that didn't probably weren't truly deserving of the seeding they were given.
The big news is Arian Foster knocking out Tim Tebow but really that shouldn't be thought of as an upset. Foster should have been considered a tournament favorite, Tebow didn't even really have a team's fan base to call his own for much of the week, and there are just as many people who would think of voting against him as supporters who would go out of their way to vote for him. Foster will now face Calvin Johnson, who captured the highest percentage in the round with 92%, in what easily could have been a Finals pairing.
Victor Cruz and Cam Newton came out of the round looking especially strong. There may be some concern for Aaron Rodgers who was only able to get 79% against Joe Haden. Remember last year some Packers fans campaigned to vote against him so as to avoid the "Madden curse" and that factor may be emerging again. He'll now face Marshawn Lynch who cruised to a 71% victory against a stronger opponent.
Voting for the round of 16 can be completed daily on the ESPN page until next Wednesday when the tournament will advance to the elite eight!