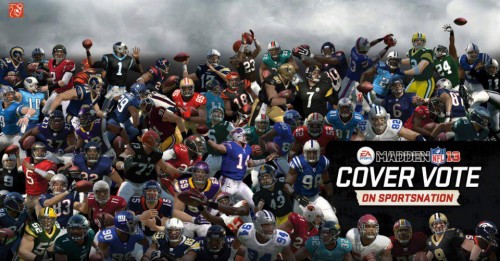 The tournament to decide the cover athlete for Madden NFL 13 has reached the quarterfinals. It's Cam Newton vs Larry Fitzgerald and Patrick Willis vs Victor Cruz on one side of the bracket with Aaron Rodgers vs Ray Rice and Calvin Johnson vs Rob Gronkowski on the other.
The most startling result from the previous round is just how easily Calvin Johnson dispatched of Arian Foster in what legitimately could have been a finals-worthy pairing. Johnson took 73% of the vote over one of the top guys in the competition continuing his dominant run. Patrick Willis is the only defensive player bucking the trend of voters preferring offense however his run may end here against NFC Championship foe Victor Cruz.
Considering the voting results thus far it sure appears destined to be Cam Newton vs Megatron in the finals. That would be a fantastic match-up with both players well deserving of the honor. Unlike last year there are no individuals receiving unlikely levels of support and that bodes well for fan favorites such as those two.
Voting in the elite eight round will run until next Wednesday and is completed through ESPN. The results will then be announced with the semi-finals immediately getting underway.