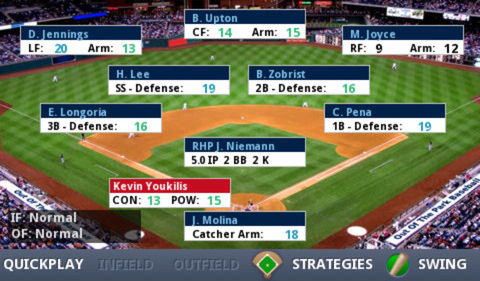 In last year's Community Choice Awards the management sim iOOTP Baseball 11 finished as the runner-up for Best Mobile Game. Today iOOTP 2012 released for the iPhone, iPod touch, and iPad for $5. A number of enhancements have been delivered to go along with the same sim engine used in the PC/Mac version of the game. Updated rosters that even include the top 10 minor league prospects for each team are included along with the three central game modes: Major Leagues, Fictional, and Historical Replay. 
Improvements to iOOTP 2012
•Just like its big brother, iOOTP 2012 features the complete 2012 roster set. Every player on every major league team is available, with complete ratings and career stats, along with the top 10 minor league prospects for each team.
•Detailed player histories, including award histories, are now available, and there are more league leaderboards, for a total of 8.
•As in last year's game, the HD iPad version is included free, and many of the game's screens have been reworked to take advantage of the larger display. Some iPad screens, such as the box score, have been improved from last year's game to allow the display of even more information.
•We've revamped iOOTP's user interface, as you'll see in the batch of screenshots we'll be releasing soon, and we've greatly improved the roster management and trading AI.
•Historical seasons now have real schedules, so you can play through your favorite team's past seasons as they really happened.
•Like last year, three free historical seasons will be included. This year they're 1924, 1969 and 1995. Bundles with 10 seasons and single seasons will be available for purchase.
•On the fictional side, iOOTP 2012 includes one new fictional setup, along with the ability to choose any year to start your fictional league, complete with stats and finances from that era.
•While managing a game, you can opt to use pitch-by-pitch mode, and you can sim until a specific inning. You can also change game options during a sim.
•In addition, you can now use the DH in any league and you can disable finances. You can also edit league, sub-league, and division names (division names are editable only in the iPad version.
•We've enabled iTunes Share, which makes it easier to transfer saves or add logos to the game.