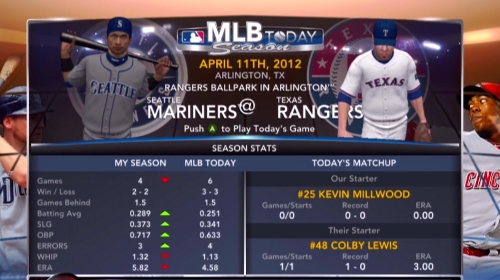 The MLB season has been underway for two weeks and finally MLB 2K12's main new mode has started to look like what was advertised. Having on two occasions now detailed that MLB Today Season was not even functioning it was critical that 2K Sports get it running properly. Some headway appears to have been made early this week but the mode still isn't fulfilling the promises the company set. 
Starting pitchers and lineups are coming through in more accurate fashion now in MLB Today Season. The proper starters are usually being presented for the day's match-ups and the correct batting order and starters are better represented. MLB Today data has finally started to come through as well. That's just as important considering the mode is completely data-reliant and the excellent commentary relies on it.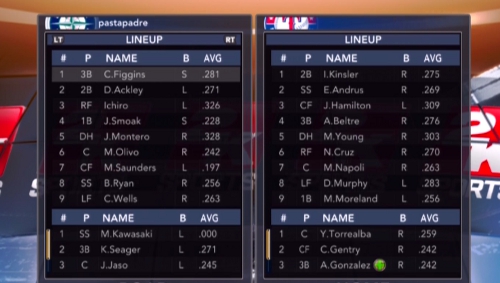 What still doesn't make sense are big factors like why are the Mariners there 2-2 in "My Season" when I haven't actually played any of the games? Actually regardless it should be the same amount as MLB Today. This is the case with all the test seasons I have set up. The Marlins for example have 3 games in "My Season" and "MLB Today" totals 5. The Mariners should be 3-3 as shown by the MLB Today data. The discrepancy is a huge problem.
It had become a known issue that user-completed stats were way out of whack and whether that remains the case has to be further investigated. Taking a look at the stats delivered so far through the service they appear accurate – but given the lesser amount of games played in "My Season" vs "MLB Today" they are missing games worth of data without explanation. All games also appear to be played during the day rather than taking the real start times into consideration.
The reliability of the mode is definitely in question after the fumbled start which may have already dissuaded those who had some level of interest in playing along with the season from making that time investment. 2K right now appears to primarily be focused on the $1 million contest rather than fulfilling the advertised features that consumers actually paid for from the product. Such could easily be seen in their lack of concern over the mode not working at all for the first two weeks. They aren't going to be attentive should more issues arise. Given the series is unlikely to be around this time next year the motivation to provide a solid product has all but completely dissipated.