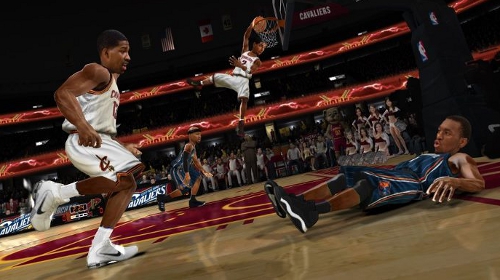 After being pressured a great deal EA Sports finally provided a roster update for NBA Jam: On Fire Edition at the end of January. That satisfied the requirement given it was a prominently advertised feature and to an extent even met the realistic expectations for the title making another update – which has just arrived – a pleasant surprise.
The first update only moved players around and didn't add any rookies or others who had increased their relevance enough to include on the limited rosters in the game. That really crippled teams like the Cavs. This latest update however actually introduces names that many will want to take advantage of including Jeremy Lin, Kyrie Irving, Derrick Williams, Kemba Walker, and Jimmer Fredette. A few transactions have also been accounted for that came with the trade deadline in mid-March.
Other additions: Tristan Thompson, Brandon Knight, MarShon Brooks, Nene, DeAndre Jordan, Darren Collison, Aaron Afflalo, Roy Hibbert, and Kyle Lowry.