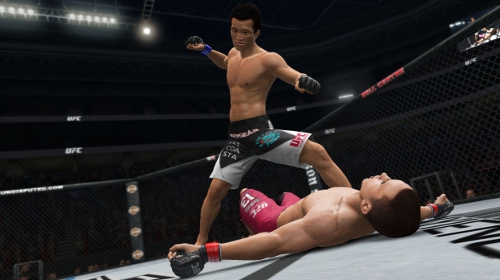 Last week the second pack of fighters through downloadable content arrived early for Xbox 360 "Season Pass" holders. Today those fighters become available for everyone – on both the 360 and PS3 – whether getting it through the "Season Pass" or buying the pack on its own.
The "International Pack" offers five new fighters: "The Korean Zombie" Chan Sung Jung, Alessio Sakara, Pascal Krauss, Kyle Noke, and John Hathaway. Also a new set of Ultimate Fights arrive with the "Ultimate Compilation":  Best of PRIDE – Final Conflict 2003: Antonio Rodrigo Nogueira vs. Mirko Cro Cop, Submissions – UFC 125: Takanori Gomi vs. Clay Guida, Upsets – UFC 110: Joe Stevenson vs. George Sotiropoulos, Rivals – UFC 124: Stefan Struve vs. Sean McCorkle, and Knockouts – UFC 120: Dan Hardy vs. Carlos Condit.
The "International Pack" and "Ultimate Compilation" sell for $5 each to those who did not buy the "Season Pass" which was $17 to get all DLC including both fighter packs, three Ultimate Fight packs, and unlockables/boosts.