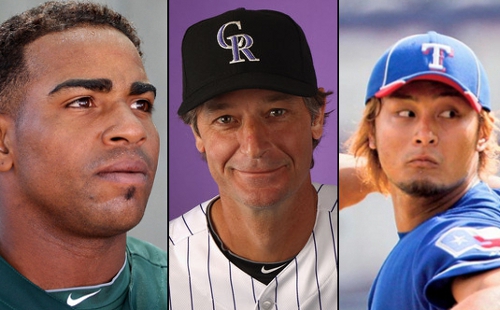 In the first run through of player face comparisons between MLB 2K12 and MLB 12: The Show it was the latter that dominated winning 21 out of the 27 pairings. Once roster updates introduced new players though it was time to check in on them given the process of creating players and adding them after release is handled much differently than those meticulously built for the original shipped product.
Needless to say both titles delivered very questionable representations. Though no one would claim either game did a "good" job with the three it was MLB 2K12 that came out on top by actually pulling out a victory. Over 8K votes were collected for the three pairings.  
•Yoenis Cespedes – Winner: Both are equally horrendous (47%)
Despite the wrong ethnicity The Show's (32%) was still considered better than 2K12's (21%).
•Jamie Moyer – Winner: MLB 2K12 (57%)
The Show's Moyer (9%) was so bad that it made 2K12's almost seem decent.
•Yu Darvish – Winner: Both are equally horrendous (65%)
Overwhelmingly no one wanted to throw support behind either The Show (20%) or 2K12 (15%).