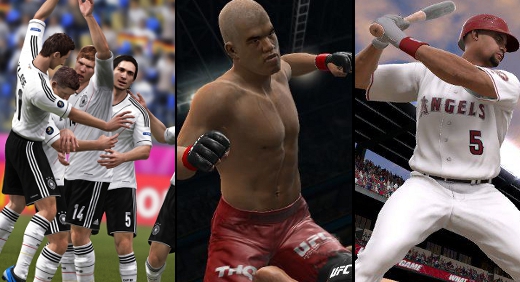 It's been a rough first third of the year for sports gaming. There have been some good games released but even those have suffered from a wide array of issues the severity of which has stretched beyond what has become somewhat accepted as the norm. With well over 5K votes in the poll posted last week it's MLB 2K12 taking the crown as the biggest failure this year with MLB 12: The Show trailing close behind. 
It's important to point out this doesn't necessarily represent a sentiment that these are the 'worst' games – though in the case of 2K12 that could be the case – instead it factors in a certain level of expectations that differ from the others while also being in a position where their troubles were unavoidable for consumers. There may have been more inexcusable actions relating to other games (like UEFA's deceptive advertising or the extent of DLC with Tiger 13) but ultimately the problems that affected the most people came with the baseball offerings.
Biggest Failure So Far This Year
(28%) MLB 2K12
(25%) MLB 12: The Show
(15%) Tiger Woods 13
(14%) UEFA Euro 2012
(11%) UFC Undisputed 3
(7%) Other
Anyone with only a 360 had no choice but to go with MLB 2K12 or go without baseball. So those who caved were left dealing with a multitude of issues – and the voting began before the huge embarrassment of the Perfect Game Contest being compromised by rampant cheating. Meanwhile The Show as a series has been one of the most consistent this generation so when it falters with its patches, when advertised features are busted or are never even activated, and when communication is non-existent, it's a more shocking development than when other games stumble in similar fashion.