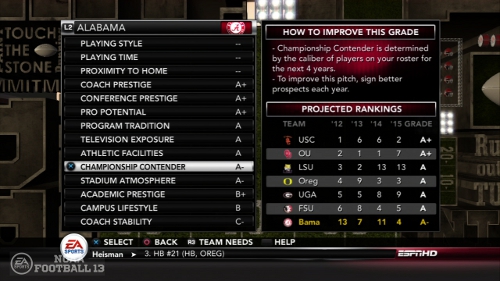 Based on expectations and then reaction to the news on Dynasty mode in NCAA Football 13 a number of improvements and additions are being welcomed positively however still EA Sports didn't deliver in a number of areas that have been frequently requested. 
The NCAA Football series has often been the more ambitious of the two football products out of EA Sports but it has struggled with execution. Because of that there will be an understandable hesitation to completely buy into all the news – ultimately the features do have to work properly and as NCAA 12 showed that can't be taken for granted. Overall if the advertised enhancements for Dynasty mode work properly they are likely to go over well with fans.
EA nailed a number of things that were needed particularly presentation wise by bringing in the ESPN ticker and adding studio updates. Beyond that they improved the scouting and recruiting with several new elements and additional depth, dynamic conference prestige is being introduced, and they have crafted new tools to address any potential stability issues with Online Dynasty such as the dreaded "transfer failed" errors.
What had been most cited as desired improvements for Dynasty mode which did not make it in included more options for Custom Conferences, a larger number of user-controlled teams in Online Dynasty, expanded 85 man rosters, a completely revamped recruiting process, a College Gameday studio show, spring practices and games, and neutral site games.
How do you feel about what's new for Dynasty in NCAA Football 13 when considering what you had hoped for or needed to see out of the product? Leave your thoughts in the comments!