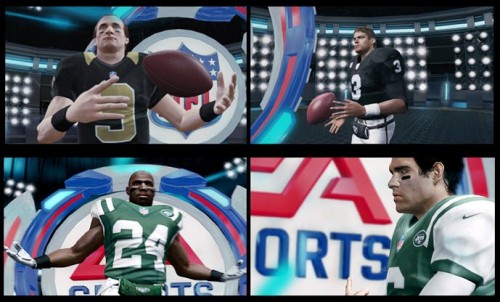 While focus has largely been on the "monumental change to gameplay" being announced on Monday for Madden NFL 13 there is also the unveiling of "Connected Careers" scheduled for the same day. It would seem unlikely to be just a coincidence that NHL 13's "GM Connected" mode carries the same name without also being similar feature wise so the framework of the two may very well be related. Courtesy of GameInformer the general basis of what it's all about in NHL has been laid out and sounds as though it would be plausible for Madden and exciting news for those hoping for a true Online Franchise. 
It's already known that legendary coaches and players will have a role in "Connected Careers" – retailers are offering their own exclusive duos and promoting them for use in the mode. In "GM Connected" there is the option to play in a traditional manner, as a coach, or GM – and it's all connected online with options to stay solo, go head-to-head, or come together for team play.
EA Sports last year promised improvements to Online Franchise mode for Madden 13 after leaving it untouched in Madden 12. Since then nothing else has been spoken on the subject so either something big was in the works or they were going to backtrack on that. It would make sense then that this could be the evolution of Online Franchise – tying it into "Connected Careers" which essentially would be Franchise mode in any number of variations – if in fact the structure is similar to that found in NHL 13.