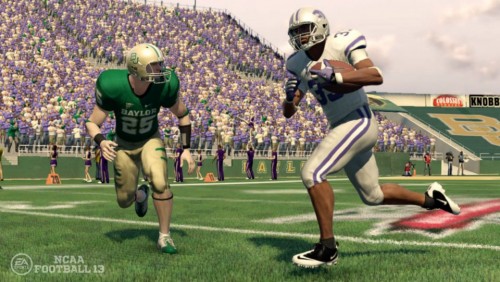 Though NCAA Football 13 was largely overshadowed at E3 by Madden NFL 13 the move to release the demo during the event paid some dividends for EA Sports. NCAA may not be the the innovative product this year but the improvements that were made do seem to be resonating once the opportunity arises to actually play the game. The results of the poll which collected over 5K votes will be encouraging for EA though not overwhelmingly so. 
•33% No Change and likely to buy
•33% Encouraged and more likely to buy
•18% No change and unlikely to buy
•16% Discouraged and less likely to buy
The overall percentages hold fairly true to previous tracking, though here with the demo as one would expect it seems to have cemented decisions more so than any informational releases have done in the past. The discouraged number is likely a combination of those consumers who were on the fence and have been tipped away from a purchase along with some expressing frustration that the "Infinity Engine" physics didn't make it in. A full third though being swayed in the other direction is a better than anticipated outcome considering some of the negativity surrounding the game as of late.