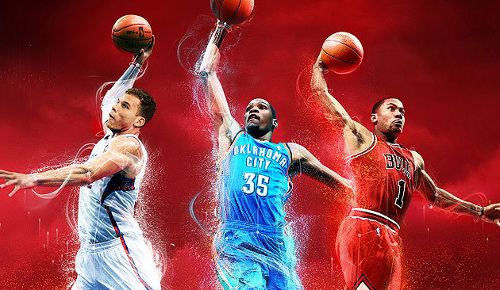 Though the news was broken well in advance of today's announcement the cover of NBA 2K13 will feature the trio of Kevin Durant, Blake Griffin, and Derrick Rose. What was unclear was whether there would be different versions of the cover – as was the case with NBA 2K12 – or all three sharing a single cover. With NBA 2K13 there will only be a single cover featuring all of them together. Check out the full image here. 
As was speculated the Brooklyn Bridge in the teaser did represent Michael Jordan though it appears he won't be on a cover this year unless he's being held back for a special edition.
It's an especially interesting choice of players for the cover with two being former EA Sports front men (Griffin with NCAA Basketball 10 and Durant repping both NCAA March Madness 08 and the ultimately cancelled NBA Elite 11) and Rose's status for the upcoming season unclear as he comes off the ACL tear suffered in the playoffs.
This also takes a direct shot at EA whos NBA Live series has returned and with the tagline "The Future of Basketball". That had been intended to play off 2K's recent focus which shifted heavily to the history of the league more so than the present. Now 2K has three of the biggest young stars in the league front and center representing their title.
In addition 2K has now started to tease the next round of news telling Kotaku that "We have one of the biggest announcements ever, if not the biggest ever in the history of the 2K Sports franchise ever coming in a couple of weeks." The timing could fit for the reveal of the Dream Team – though one would have thought if that was included the team would have been featured on the cover – or a mode at least related to the upcoming Olympics.