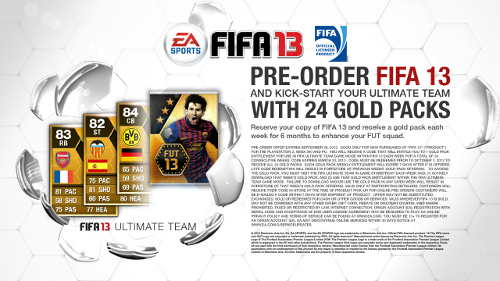 EA Sports has revealed details on the pre-order bonuses being offered for FIFA 13. Some retailers will be providing an Adidas All-Star Team which features the top players in the world all on one squad while others will be giving away 10,000 Football Club credits. The all-new Football Club Catalogue will offer up the opportunity to buy things like unique goal celebrations, Virtual Pro attribute boosts, Career mode Super Scout credits, FIFA Ultimate Team coin boosts, extra matches in Head to Head Seasons mode, and much more. 
So far Amazon is the only retailer to post their pre-order bonus and it is the Adidas All-Star Team. Origin, Gamestop, Best Buy, and Walmart should be following with their details soon.
Also just announced is the FIFA 13 Ultimate Edition. The product will include 24 FIFA Ultimate Team Gold Packs distributed over a 24 week period. The Ultimate Edition will be available only via pre-order and the price remains unknown. Each Gold Pack has a value of $1 so in order for that to be an enticing deal the Ultimate Edition would probably have to come in at $70.
It's no surprise to see Ultimate Team pre-order incentives continue for EA Sports titles as not only does that mode bring in huge revenue (upwards of $100 million for FIFA 12) but it keeps the user invested in the game for much longer meaning even more opportunity to produce digital sales while also resulting in fewer copies traded in to stores/available to buy used. This is the first time however where a special edition of the game based solely on the appeal of that particular mode has been attempted – though NHL 13's Collector's Edition is largely being promoted on having extras included for its Hockey Ultimate Team mode.
(Update) Gamestop is offering the 24 Ultimate Team Gold Packs as their pre-order incentive. It appears that may just be the incentive and not actually a separate edition that would carry a higher price.