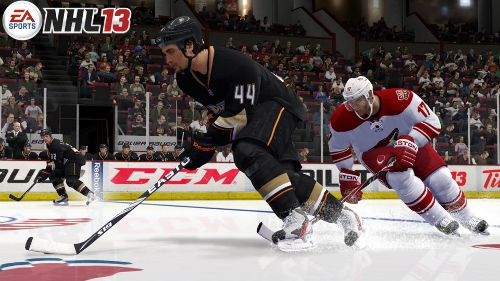 EA Sports has released a new blog for NHL 13 going even deeper into the enhanced AI termed "Hockey IQ" along with some new screenshots that feature free agents with their new teams. Check out the 16 additional images – which includes the Minnesota Wild's big splash yesterday signing Zach Parise and Ryan Suter – in the FB album or G+ album.
Continue on for what is being characterized as the "top five facts" regarding Hockey IQ. Hopefully roster updates will be more plentiful going forward (the NHL team has been far too inconsistent with them in recent years) given the ability to change team strategies and the importance being placed on authenticity. 
1- Authenticity has always been paramount for the NHL franchise. To create the team systems for EA SPORTS Hockey IQ, we had pro coaches come in and sit with the development team to make sure we captured every detail of the systems we were recreating.
2- The AI will recognize if they have given up an odd man rush a few too many times and be able to respond to that even if they were able to recover in each of those scenarios. They understand specific details such as being beaten with long stretch passes, vacating the far side and being beaten with reverses and will be able to adjust accordingly.
3- AI will not only analyze how their opponents are playing but will also adjust throughout a game based on their own success or the type of game being played. If the AI goes up by a few goals early, they may sit back. If they go down by a few goals, you will see them get much more aggressive and push for more turnovers.
4- All NHL teams will be set to default strategies that match how they play in real life. Due to this, you will get different looks right out of the gate throughout a season depending on who you are playing. If you play Tampa Bay, they may sit back more when the game is tied early on where as a team like the Kings may come in flying with an aggressive forecheck.
5- All of the team strategies are able to be updated through roster updates. We can make changes to the strategies if teams happen to change throughout the year and/or if a team happens to get a new coach and change their style of play, it can be reflected in game.