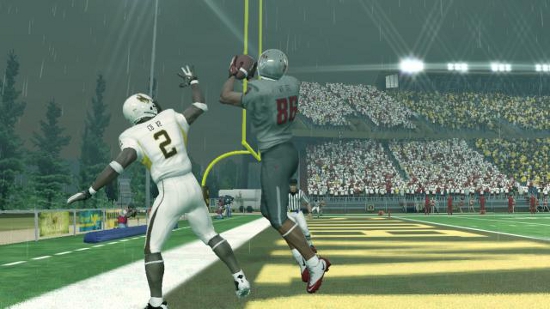 Online Play for NCAA Football 13 can be defined as a strength while still being indicative of the larger problem being faced by the series. Though the game performance is solid, and Online Dynasty remains extremely impressive, the suite of features feels more stale than ever due to a lack variety now having gone five years deep without any notable additions.
With the gameplay experience not feeling all that different from NCAA 12 (or arguably going back even farther) it's understandable that some have grown bored with it. Still, in my sessions, the enhancements made for NCAA 13 actually shone through better than they have in offline games vs the CPU. Not only are aspects such as the pass trajectories and usable play action refreshing but it has provided even better balance and the results feel more deserved. Strategy and patience has paid off more due to that. Overall NCAA 13 has just seemed more rewarding in head-to-head and that hasn't always been the case for the series.
Lag encountered has been minimal and overall connections have been stable. It doesn't feel quite as brilliant as Madden NFL 12's performance but it comes close and is crisper than NCAA 12.
One disappointment is that it seems to lack the breakthrough that Madden introduced last year in terms of kick meter response. With Madden 12 the meter accounted for any latency and 'snapped back' much better representing the actual user-input timing. With the right stick kick meter either NCAA missed out on that or it's not nearly as apparent. Given that everything control wise between NCAA and Madden is becoming uniform that could mean it'll be lost in Madden as well or at least not as effectively implemented. Maybe it simply doesn't work the same way with the right stick kicking as opposed to the button timing found in Madden 12.
There have been some issues reported including disconnects and leaderboards not properly recording rank points. There are also spotty mentions of troubles down the line in Online Dynasties – and given all the issues had last year that remains a concern and will have to be monitored. The lack of widespread trouble though for a release week is admirable in itself.
NCAA 13 hasn't piggybacked onto Madden's Online Team Play and it's been too long since the exceedingly enjoyable Overtime mode was stripped from the series. There's only the basic Play Now type online game along with the connectivity of Online Dynasty. It's a generally positive online experience but now lacks any flair unless deeply invested in an active dynasty. There it can be enriching but what is lacking is the quick fun in a pick-up-and-play type setting. It's clearly reached the time for the NCAA franchise to innovate again after having gone stagnant since introducing Online Dynasty in NCAA 09.