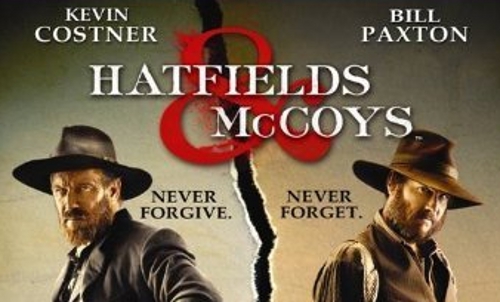 •Hatfields and McCoys
The Hatfield-McCoy saga centers on "Devil" Anse Hatfield and Randall McCoy. Close friends and comrades during the Civil War, they returned to their neighboring homes – Hatfield in West Virginia, McCoy just across the Tug River border in Kentucky – to increasing tensions, misunderstandings and resentments that soon exploded into all-out warfare between the families. As hostilities grew, friends, neighbors and outside forces joined the fight, bringing the two states to the brink of another Civil War.

•ATM
After leaving their company Christmas Party together, David (Brian Geragthy. The Hurt Locker) and Emily's (Alice Eve, Entourage, Starter for 10) impromptu first date takes an unexpected turn when their coworker, Corey (Josh Peck, The Wackness), asks them to make a late-night stop at an ATM. What should be a routine transaction turns into a bloody battle for survival when an unknown man appears and traps them inside the vestibule. With the wintry temperatures dipping below freezing and the morning sunrise still hours away, they have no choice but to play the man's deadly game of cat-and-mouse if they want to live through the night. With nail-biting suspense, ATM crafts one of the most shocking and suspenseful horror tales in years.

•LOL
In a world connected by Facebook, Twitter and YouTube, Miley Cyrus stars as a teen girl navigating through the peer pressures of high school romance and friendship, while dodging her protective mother (Demi Moore), in the fresh coming-of-age comedy LOL.

•Detention
Josh Hutcherson, Dane Cook and Spencer Locke star in Detention, a hipster, teen horror-comedy where the local students of Grizzly Lake must survive their final year of high school. Standing in their way is Cinderhella, a slasher-movie killer who has seemingly come to life and is preying on the school's student body. As the clock ticks and the bodies pile up, the likely suspects are embroiled in a race against time to stop Cinderhella and ultimately save the word… if only they can get out of detention.

•Total Recall: Mind-Bending Edition
Experience Total Recall the way it was meant to be seen with a pristine Director approved 1080P HD transfer! Action star extraordinaire Arnold Schwarzenegger is perfectly cast as Quaid, a 2084 construction worker haunted by dreams of Mars in this crowd-pleasing science fiction spectacle. Against the wishes of his sexy blonde wife (Sharon Stone), Quaid goes to Rekall, a company that implants artificial memories, so he can "remember" visiting the red planet that is now being settled by human inhabitants. However, Quaid is actually a secret agent from Mars – or is he?

•Shark Week: 25th Anniversary
25th Anniversary Collection features the best Shark Week episodes since premiere airing. Episodes: Great White Shark: Uncaged, Blood In The Water, Ultimate Air Jaws, Mythbusters: Shark Special