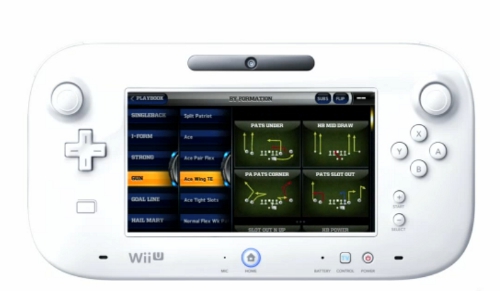 EA Sports today officially announced Madden NFL 13 for the Wii U. The game will feature authentic gameplay in HD – not the gimmicky visuals or gameplay style of the Wii. It will include many of the same core gameplay improvements that are present in the Xbox 360 and PS3 versions of game, the full Connected Careers mode that essentially combines Franchise and Superstar, and the new commentary team of Jim Nantz and Phil Simms. Given that no mention was made of the "Infinity Engine" physics it's unfortunately unlikely that made the transition. 
Differentiating itself from the 360 and PS3 is the functionality that comes with the GamePad. The touchscreen will display entire playbooks and allow for making pre-play adjustments including drawing hot routes right on the screen.
Nintendo has yet to announce the release date for the Wii U but Madden 13 and FIFA 13 are expected to be launch titles when it arrives this holiday season.