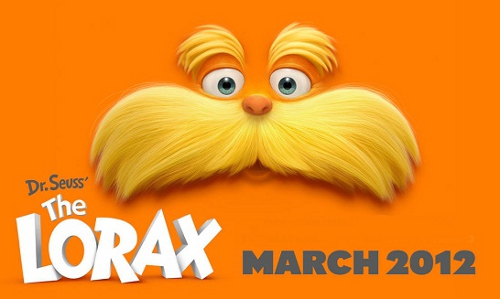 •Dr. Seuss' The Lorax
The imaginative world of Dr. Seuss comes to life like never before in this visually spectacular adventure from the creators of Despicable Me! Twelve-year-old Ted will do anything to find a real live Truffula Tree in order to impress the girl of his dreams. As he embarks on his journey, Ted discovers the incredible story of the Lorax, a grumpy but charming creature who speaks for the trees. Featuring the voice talents of Danny DeVito, Ed Helms, Zac Efron, Taylor Swift, Rob Riggle, Jenny Slate, and Betty White, Dr. Seuss' The Lorax is filled with hilarious fun for everyone!

•Grimm: Season 1
The classic Grimms' fairytales come to life like never before in this "dark and imaginative" (Mike Ayers, CNN.com Entertainment) series from the producers of Buffy the Vampire Slayer and Angel. Portland homicide detective Nick Burkhardt (David Giuntoli) discovers he's descended from a long line of "Grimms," who are charged with keeping balance between humanity and the creatures of myth. With newly awoken abilities to detect the evil lurking among us, Nick struggles to keep his old life separate and safe as he becomes ever more entrenched in the ancient rivalries of the Grimm world. Now, watch back-to-back and uninterrupted all 22 Season One episodes of this uniquely evocative series that critics rave "offers genuine scares".

•Strike Back: Season 1
A high-octane, globe-spanning thriller with storylines ripped from today's headlines, Strike Back is a one-hour drama series that focuses on two members of a top-secret anti-terrorist organization known as Section 20: Michael Stonebridge, a British sergeant in the ultra secret Section 20 anti-terrorist team, and Damien Scott, a Delta Forces operative who was disgraced and discharged on the eve of the U.S. invasion of Iraq.

•Grosse Pointe Blank: 15th Anniversary Edition
Celebrate the 15th anniversary of a killer comedy hit – now available on Blu-ray for the first time with a sensational new digital restoration. John Cusack, Minnie Driver, and Academy Award nominee Dan Aykroyd are hilarious in this surefire knockout, loaded with action and laughs. Martin Blank is a hit man stuck in a career rut when his 10-year high school reunion gives him the chance to rekindle an old flame and pull off one final job. Things are looking up until his arch rival joins the party, aiming to blow the competition away.

•Adventures in Babysitting: 25th Anniversary Edition
Get ready for the adventure of a lifetime with the 25th anniversary edition of Adventures In Babysitting, starring Academy Award nominee Elisabeth Shue. Experience all the laughter and excitement in a whole new way on Blu-ray with a sensational new digital restoration! When Chris Parker (Shue) agrees to babysit, she expects a night of TV and boredom. But when her frantic friend calls and pleads to be rescued from a downtown Chicago bus station, Chris and the kids pack up and leave their safe suburban surroundings for the heart of the big city. It's a frighteningly funny expedition no one will forget!

•Romy and Michele's High School Reunion: 15th Anniversary Edition
Two women get into a lot of trouble when they go to their high school reunion and lie about their lives after twelfth grade. Stars Mira Sorvino, Lisa Kudrow and Janeane Garofalo.

•Clue: The Movie
Here is the murderously funny movie based on the world-famous Clue board game for the first time on Blu-ray. Was it Colonel Mustard in the study with a gun? Miss Scarlet in the billiard room with the rope? Or was it Wadsworth the butler? Meet all the notorious suspects and discover all their foul play things. You'll love their dastardly doings as the bodies and the laughs pile up before your eyes.

•High Fidelity
Join John Cusack, Jack Black, and Academy Award winner Catherin Zeta-Jones (best supporting actress, 2002, Chicago) in a romantic comedy sure to make your all-time top-five list – with a bullet! Experience all the laughter and the drama of High Fidelity on Blu-ray for the first time, complete with a new digital restoration. Rob Gordon's (Cusack) semi-failing record store isn't the only thing in his life that's floundering. When his longtime girlfriend walks out on him, Rob's needle skips the love groove, and he is forced to examine his past romantic failures in his own unique way.