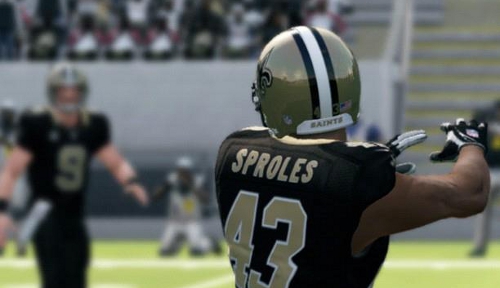 This is the week of the running back for Madden NFL 13 with EA Sports today revealing the top 10 rated players at the position. Come Friday the ratings for all running backs will be released. Current holdout Maurice Jones-Drew shares the top spot at 97 overall with Adrian Peterson who is coming off a severe knee injury. Arian Foster is right behind at 96 overall.
Over the course of the next three weeks there will also be the opportunity to vote on which player, out of the designated top three, should be the highest rated in a particular category. Today the rating for RBs is "speed" with Chris Johnson, Jamaal Charles, and Darren McFadden in the competition to get the nod. Vote here on which you think is deserving of being the fastest back.
Continue on for the top 10 ranking of running backs in Madden NFL 13 and leave your thoughts in the comments! 
Maurice Jones-Drew: 97
Adrian Peterson: 97
Arian Foster: 96
LeSean McCoy: 95
Ray Rice: 95
Matt Forte: 93
Frank Gore: 92
Steven Jackson: 92
Jamaal Charles: 91
Michael Turner: 91