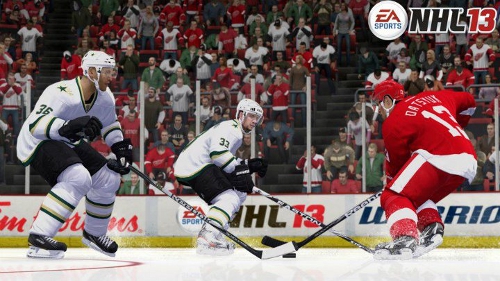 EA Sports recently released two videos for NHL 13 which focus in on defensive gameplay and the overhaul to presentation. These looks at NHL 13 follow up the first extended gameplay video along with more details on GM Connected mode as well as Be a Pro and EASHL that have come in just the last couple weeks of promotion for the game.
Improvements to the way defenses play go beyond just "Hockey IQ" and include the impact of body positioning, more effective poke checks, the ability for the defense to limit the opposition's opportunities at shots in the crease, flashy moves when handling the puck resulting in more vulnerability, pucks acting more loose therefore rewarding those who play the lanes better, and many more factors to consider that are demonstrated through the clips shown.
Work done to presentation features enhanced lighting, authentic stadium environments, animated power rings, broadcast style highlights, improved replay analysis, and a true broadcast gameplay camera. Continue on for the videos and leave any thoughts in the comments!