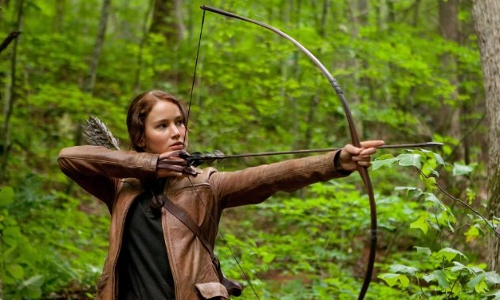 •The Hunger Games
Every year in the ruins of what was once North America, the Capitol of the nation of Panem forces each of its twelve districts to send a teenage boy and girl to compete in the Hunger Games. Sixteen-year-old Katniss Everdeen volunteers in her younger sister's place and must rely upon her sharp instincts when she's pitted against highly trained Tributes who have prepared their entire lives. If she's ever to return home to District 12, Katniss must make impossible choices in the arena that weigh survival against humanity and life against love.

•The Raid: Redemption
As a rookie member of an elite special-forces team, Rama (Iko Uwais) is instructed to hang back during a covert mission involving the extraction of a brutal crime lord from a rundown fifteen-story apartment block. But when a spotter blows their cover, boss Tama (Ray Sahetaphy) offers lifelong sanctuary to every killer, gangster and thief in the building in exchange for their heads. Now Rama must stand in for the team's fallen leader Jaka (Joe Taslim) and use every bit of his fighting strength – winding through every floor and room to complete the mission and escape with his life.

•Jaws
First time on Blu-ray. Directed by Academy Award winner Steven Spielberg, Jaws set the standard for edge-of-your-seat suspense quickly becoming a cultural phenomenon and forever changing the movie industry. When the seaside community of Amity finds itself under attack by a dangerous great white shark, the town's chief of police (Roy Scheider), a young marine biologist (Richard Dreyfuss) and a grizzled shark hunter (Robert Shaw) embark on a desperate quest to destroy the beast before it strikes again. Featuring an unforgettable score that evokes pure terror, Jaws remains one of the most influential and gripping adventures in motion picture history.

•Fallen
First time on Blu-ray. A pair of Chicago detectives apprehend a serial killer. However, after the killer is convicted and executed, a new series of murders done in the late killer's peculiar style begin to turn up, potentially implicating one of the detectives.

•Dexter: Season 6
The explosively popular Dexter is back with a vengeance for a sixth season of startling suspense and unexpected twists. It's been a year since last season's shocking and heartbreaking conclusion, and mild mannered criminologist-cum-grisly serial killer Dexter Morgan has come to terms with who he is. But his existence is shattered when he crosses paths with an enemy unlike any he's faced before. A delusional religious zealot with unflinching convictions, this new adversary soon draws Dexter into a dangerous game that could well end in disaster.

•Glee: Season 3
Season Three of the electrifying, award-winning series finds the Gleeks headed for the Nationals – and graduation! As younger members join New Directions, others are about to begin exciting, if uncertain, lives outside it. Featuring some of television's most enthralling song and dance numbers, including memorable hits from the legendary Michael Jackson, Glee continues to earn its place in the hearts of viewers around the world.

•Community: Season 3
Greendale Community College's most learning-challenged study group returns for the most brilliantly hilarious year yet! What with campus-wide pillow fights, spooky Halloween pizza parties, holiday Glee Club smackdowns, foosball showdowns, cafeteria sandwich throwdowns, crime show send-ups, underage security patrols, a beloved classmate's demise that sets off a riot, plus a new Vice Dean (Emmy winner John Goodman) with a strange air conditioning fixation… It's clear these people need each other, never more than now.

•Happy Endings: Season 1 and 2
Take six twentysomething Chicago friends, add cocktails and hormones, shake, and, you've got Happy Endings, the hilarious, edgy new comedy that asks: when a couple splits, who gets to keep the friends? The laughs are nonstop as they do what tightly-knit friends do best: hang out, have fun, debate the meaning of life, hook up, break up, and do it all over again!