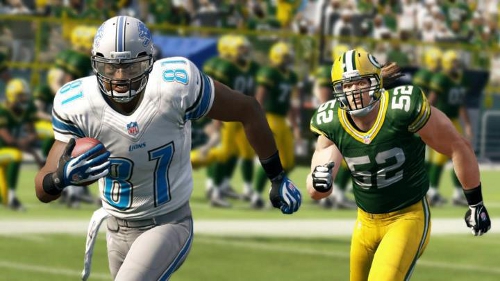 This is the week of the receiver for Madden NFL 13 with EA Sports today revealing the top 10 rated pass catchers. Come Friday the ratings for all receivers including tight ends will be released. Cover athlete Calvin Johnson pulls down the coveted 99 overall rating while Larry Fitzgerald, Andre Johnson, and Rob Gronkowski trail close behind at 97 overall.
Early next week will focus on defense with all the remaining players and positions coming out at the end of the week. There is also the opportunity to vote on which player, out of the designated top three, should be the highest rated in a particular category. Today the rating for WRs is "speed" with Mike Wallace, Devin Hester, and Devery Henderson in the competition to get the nod. Vote here on which you think is deserving of being the fastest receiver.
Continue on for the list of the top 10 wide receivers and tight ends by overall rating in Madden NFL 13 and leave your thoughts in the comments! 
Calvin Johnson – 99
Rob Gronkowski – 97
Larry Fitzgerald – 97
Andre Johnson – 97
Vernon Davis – 95
Jimmy Graham – 95
Steve Smith – 95
Wes Welker – 95
Roddy White – 94
Hakeem Nicks – 94