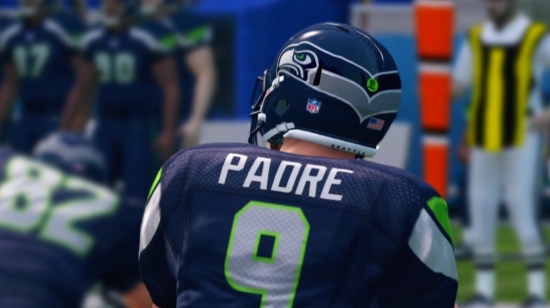 The planning stage for the Pastapadre Players Connected Career League (Xbox 360) in Madden NFL 13 is now underway. The league will feature a full 32 owners with each controlling their own created QB. This will provided a balanced playing field but also with some uniqueness as each person will chose their background which will shape their ratings, opportunities, and expectations and then how they progress them will be another part of the strategy. 
By everyone being a QB it makes comparing stats, winning awards, and team success more interesting to follow throughout the league.
In creating a QB there is the opportunity to choose style – Balanced, Pocket Passer, Strong Arm, Field General, and West Coast – and then whether he was drafted high, low, or undrafted. Regardless the player is made the starter no matter even if the team is someone like the Patriots with an established star. The difference becomes the initial ratings of the player and their potential for earning XP. Undrafted will start lower rated but have goals that are easier to reach than a top draft pick who'll start higher but have the expectations to match.
This attempt may largely come off as being experimental as there has never been anything like what amounts to an RPG online Superstar mode league. So changes to the structure of the league may be made before it even gets underway and there's certainly more potential for it to just fall apart so keep that in mind and don't set expectations too high if you do get a spot. The plan will be to play two games a week and handle off-season duties on a single day or two. There will be no leniency in staying active – anyone not showing up for a scheduled game or lacking communication will be immediately replaced.
There are two ways in which interest can be expressed. The first and preferred way would be to do so by replying to this post on Google Plus. Those who may not have a G+ account can do so by leaving the information (Gamertag, availability to play, and top five teams to QB for) instead in the comments. Understand though that anyone chosen for the league will be required to utilize G+ as it will be the primary method of communication for those involved outside of the Connected Careers website.
There will be some favor given to those who have been in past leagues or participate in discussions in the comments or through social media channels. That is just because those people are more likely to stay engaged. There will definitely be some spots filled with people that don't have that level of familiarity so don't be discouraged about that.
Understand that there are only 32 teams to be filled so unfortunately the vast majority of those who would like to participate will not be granted a spot. There will certainly be opportunities later to fill QB spots as other owners flake out. Also keep an eye out for the more traditional Coaches league where spots will likely open down the line as well.