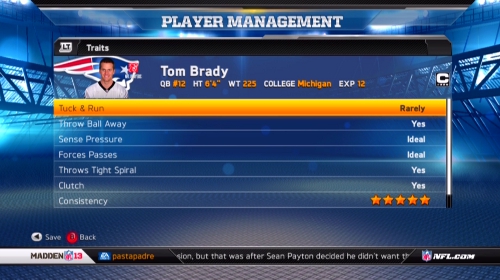 Last year EA Sports introduced "Player Traits" to the Madden franchise. The most discussed trait by far was that of "Clutch" in which those players receive ratings boosts in high-pressure situations particularly late in games.
Madden NFL 13 begins with 36 players designated as "Clutch" matching the number that debuted in Madden 12. That game ended with 38 after adding Calvin Johnson, Tim Tebow, Jimmy Graham and Justin Smith while dropping Philip Rivers and Josh Freeman over the course of the season.
Those new to the group for Madden NFL 13 are Ray Rice, Frank Gore, Mario Manningham, Steve Smith, Derrick Johnson, Eric Weddle, and Matt Prater. Dropping out are Justin Smith, Tracy Porter, Asante Samuel, Nnamdi Asomugha, James Harrison, Wes Welker, Dallas Clark, Reggie Wayne, and Peyton Hillis. Defensive lineman and offensive lineman are not eligible for the trait.
Continue on for the full list of  players that have the "Clutch" trait in Madden NFL 13 and leave your thoughts in the comments! 
Quarterback
Aaron Rodgers
Drew Brees
Tom Brady
Eli Manning
Ben Roethlisberger
Peyton Manning
Tim Tebow
Running Back
Maurice Jones-Drew
Ray Rice
Frank Gore
Marshawn Lynch
Tight End
Jimmy Graham
Antonio Gates
Wide Receiver
Calvin Johnson
Larry Fitzgerald
Andre Johnson
Steve Smith
Anquan Boldin
Santonio Holmes
Mario Manningham
Linebacker
DeMarcus Ware
Patrick Willis
Brian Urlacher
Clay Matthews
Ray Lewis
Derrick Johnson
Cornerback
Darrelle Revis
Champ Bailey
Charles Woodson
Safety
Troy Polamalu
Ed Reed
Eric Weddle
Kicker
Rob Bironas
Ryan Longwell
Adam Vinatieri
Matt Prater